Nothing brightens up an unexpectedly tough week like a good board game night! The digital board games continue while we're all making our way through this living bit of history. The 1/2 and 1/2 format is one we really enjoy and seems to be going over really well. So for the time being, that's what we're going to keep running with.
Tonight the Meeples start out trash talking and attacking one another. Ticket to Ride ends up with a lot of pieces on its board, so it can take quite a bit of time to set up and play a full game out. The digital version runs really smoothly and takes away a lot of the time-consuming steps meaning it's not out of the question to get two or even three games done in an hour. Something that would be impossible with the physical board.
So we'll see how smoothly this goes and hopefully get one or two games in prior to switching over to the always entertaining free for all with our $5 Patrons on Board Game Arena.
The Game: Ticket to Ride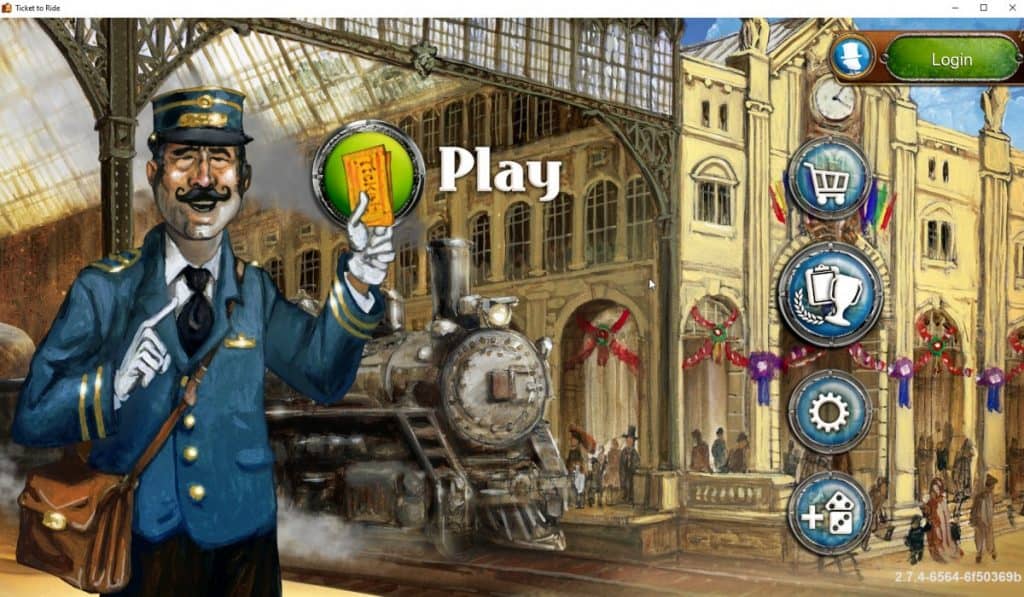 Ticket to Ride is a great board game which we have actually played multiple times before the recent travel limitations.
The digital version on Steam actually does a very good job of making game play both simple and fast (though if you have headphones on, be careful the first time you open it. The music is way too loud).
The players are living in the era of the great railroad barons. Points are determined by how many sections of track are built, with players also getting bonus points from completing secret routes on the board. These routes will be on the cards kept secretly in each player's hand. Short routes on the board are worth fewer points, while larger segments requiring up to 6 trains are worth far more. A bonus of 10 points at the end of the game is given to whoever has the longest consecutive uninterrupted train route.
The player with the most total points at the end is the ultimate railroad baron. I assume there's a trophy with that or something. This is a great game with good energy and a lot of opportunity for interactive, back and forth gameplay.
A time traveler visiting us this week assures us they have seen the future. So what does tomorrow's game look like? He says it looks just like this:
We feel like this is probably a pretty accurate description of the upcoming game night 🙂 Make sure to join us on Twitch for all the fun!
So What's Coming Up?
Friday is our first Patrons' night. Braden will have the deets on the rollout.
On Saturday morning Shane continues the Incan march towards world domination in Civ 6 on Twitch as the always amazing chat cheers him on – Indonesia's days are numbered! Starting 9:00 AM and going at least until noon – but if the invasion goes really well, who knows?
On Monday Braden continues what has been a truly amazing trip down memory lane (and super raucous chat on Twitch) playing Final Fantasy 6 on the Super NES (6:30 to 9:30 PM)
There are going to be some new styles of videos coming out on our YouTube channel – please subscribe to the Assorted Meeples YouTube channel if you haven't already!
Game reviews of Tharsis and Death & Taxes will be coming out in the coming two months
We're up to 5 Patrons in the Patreon-only Discord – only $1 a month to join the fun or $5 a month to play with us on Patrons' night, which now includes a BRAND NEW blog post on the Patreon page – 1,000+ words on SPECIFIC creative projects coming up in the weeks and months ahead. You want the inside info? $1 delivers it…and a stunningly awesome community to boot!
The new blog posts on this site are only the beginning – check out Braden bringing the MTG knowledge!
We're looking at various tools to try to get all our faces back so the reactions are part of the videos once again – we hear you and we are working toward checking out options that aren't too intrusive
More gaming, more gaming, and more gaming!
Please Consider Supporting Us!
Subscribe to our YouTube Channel

Proud to embrace the locally created moniker of "Corrupt Overlord" from one of the all time great Lords of Waterdeep runs, Shane is one member of the Assorted Meeples crew and will be hard at work creating awesome content for the website. He is a long-time player of board games, one time semi-professional poker player, and tends to run to the quirky or RPG side of things when it comes to playing video games. He loves tabletop roleplaying systems like Dungeons & Dragons, Pathfinder, Werewolf, Fate, and others, and not only has been a player but has run games as DM for years. You can find his other work in publications like Level Skip or Hobby Lark.