After our awesome introduction to Carcassonne two weeks ago, a return to classics with Ticket to Ride last week, and a blast playing with our Patrons afterwards on both weeks, yet another digital board game night is upon us. This week is another exciting one. It didn't take us too long to figure out the online interface for Ticket to Ride and that got us worked up for the classics once again.
Lords of Waterdeep was actually introduced to the group by Old Man Callahan himself, and the love affair with this great European-style board game began. A mix of heavy strategy, multiple paths to victory, a small dose of luck against a major amount of strategy and you have one of those rare games that is relatively easy to learn the basics of, offers endless depth, and is always replayable.
In other words, it's a winner.
We have had some awesome games in the past – so we're bringing back the online version!
Main Game: Lords of Waterdeep on Steam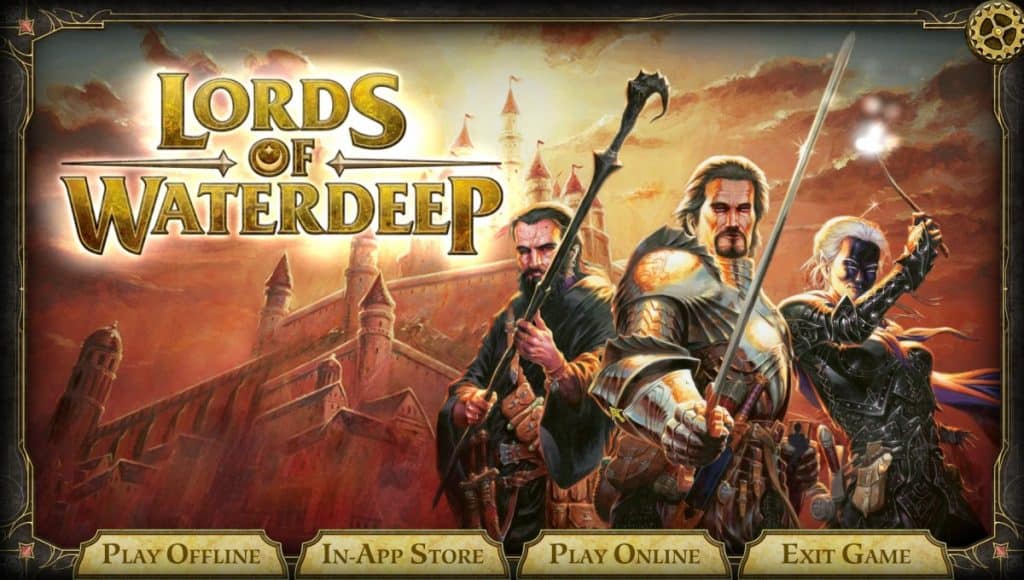 One of the truly great in-depth board games out there, Lords of Waterdeep is an incredible game that really is at the top of nearly all of our lists. This game can be played by anywhere from 2 to 5 players, and has two expansions.
You can play with each expansion individually or combine them all (which is what we recommend). I mean, Lords of Waterdeep is amazing, but it hits an entirely new level when you add in the two expansions: Skullport & Undermountain.
We will be playing likely one, though possibly two, games of Lords of Waterdeep this week for the first half of session before throwing open the chaos with our always wonderful $5 Patrons for some end of stream craziness.
Hey speaking of absolutely amazing games:
Lords of Waterdeep Playthrough Video: Assorted Meeples on YouTube
If you haven't watched this glorious video yet, please do. The cutaways are gold, the game play is great, and although it has that Meeples "professionalism" you expect from us, we're really happy with this as a first long game format run and we're looking forward to doing many more in the future.
We can't promise Thursday's games will be as freaking entertaining as the long form one, but we will certainly try our best! Hope to see you all there!
So What's Coming Up?
So trying to work around the schedules of our Patrons looks like this Friday is actually going to be the first exclusive "Parons' Night"
On Saturday morning Shane intends to continue and possibly finish the march towards Inca World Domination in Civ 6. Starting at 9 AM until who knows when on Twitch – but we reached the modern warfare age as they're only beginning to get to muskets. Fun times!
On Monday Braden continues all the awesome memories with Final Fantasy 6 on the Super NES during his Twitch stream (6:30 to 9:30 PM)
Lords of Waterdeep is super awesome – why aren't you watching it again? There are going to be even more new videos coming out on our YouTube channel so please subscribe to the Assorted Meeples YouTube channel if you haven't already!
Tharsis game review and Death & Taxes game review are on their way!
The Patreon-only Discord is as rocking as ever. Only $1 a month to join the fun or $5 a month to play with us on Patrons' night, with a fun sneak preview coming on the Patreon blog for Assorted Meeples soon.
Braden bringing weekly MTG articles on the blog
Still checking on those tools to get our faces back up and active during the Thursday streams
More gaming, more gaming, and more gaming!
Also if you're as big a fan of Lords of Waterdeep as we are, then it's probably a safe bet that you will absolutely love this INSANE killer guide to playing your lord like a boss, no matter which one you have (except Xanathar) that Shane wrote for the blog. 14,000 words to create the Ultimate Lords of Waterdeep Strategy Guide.
He also followed that up with a great guide on the best plot quests in LOW, and the show Unqualified Experts Lords of Waterdeep Episode is worth checking out, as well!
Please Support Us!
Subscribe to our YouTube Channel

Proud to embrace the locally created moniker of "Corrupt Overlord" from one of the all time great Lords of Waterdeep runs, Shane is one member of the Assorted Meeples crew and will be hard at work creating awesome content for the website. He is a long-time player of board games, one time semi-professional poker player, and tends to run to the quirky or RPG side of things when it comes to playing video games. He loves tabletop roleplaying systems like Dungeons & Dragons, Pathfinder, Werewolf, Fate, and others, and not only has been a player but has run games as DM for years. You can find his other work in publications like Level Skip or Hobby Lark.