And just like that we're already diving into May. Hard to believe Assorted Meeples has been going on seven months now, and we've been in self-isolation and social distancing for almost two months. A weird new normal for the time being. At least until we get to the point where we can safely begin meeting in person again.
However, we've done our best to make the most of it and overall it's been a blast. While our stunning lack of technical skills have sometimes been on full display for all the world to see, in general we've seen things go really well. We've even been able to break out some games that would be harder to do on table like Lords of Waterdeep and Stone Age.
This has also led to a lot of amazing game days with our Patrons. In that respect, let the good times roll!
Tonight features Small World. This is a game that should be fairly entertaining. In one part because it was a popular episode of Tabletop, and because Shane assures us he is terrible and thus will spend his time focusing on voices and role playing because quote: "This game…why do I even (censored) try?"
So should be great! LOL.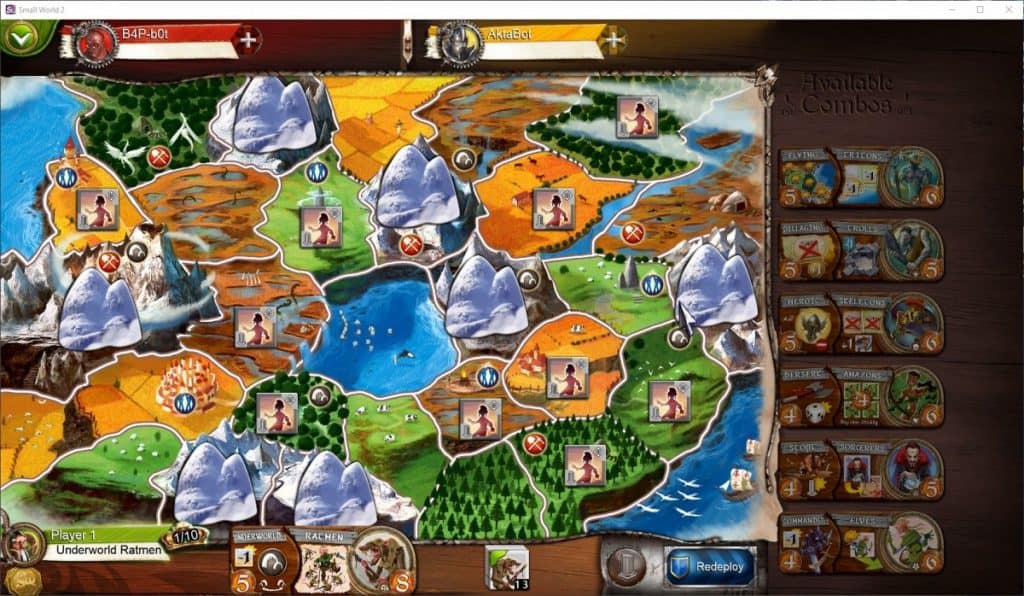 Small World is a game with plenty of strategy, and the combination of races and their random traits can lead to some very strange combinations and interesting strategies. Will the orcs pillage or be merchants? Are the Tritons heroic or flying for some reason? Will the elves embrace the mines while the humans embrace the sea? Where does a dragon fit in the picture?
Whelp only one way to find out!
Come join us tonight to see how these games play out and let's see if it opens up to Patrons for Board Game Arena after that. Should be a great night for gaming. We hope to see you there!
So What's New with Assorted Meeples?
The first Patrons' night was crazy awesome. Seems like every other week is the schedule at this point, but with a bit of an opening up in the schedule there are always more opportunities of surprises…
Delayed by an illness last weekend, but on this Saturday morning Shane intends to finish the march towards Inca World Domination in Civ 6. He'll start streaming on Twitch at 9 AM and go on until all bow before the chat's chosen religion of Bloodism (Again, nice guys!)
On Monday Braden will continue to rock Final Fantasy 6 on the Super NES on our Twitch stream (6:30 to 9:30 PM) – we're just about to the World of Ruin!
Lords of Waterdeep is super awesome – why aren't you watching our playthrough again? Please support such future efforts by subscribing to the Assorted Meeples YouTube channel (it's free!)
Game reviews of Tharsis and Death & Taxes are on their way!
The Patreon-only Discord is as rocking as ever. Only $1 a month to join the fun or $5 a month to play with us on Patrons' night!
Braden bringing weekly MTG articles on the blog – check out his articles on the Top 10 Ikoria Cards, an explanation of Why Flash Was Banned in Commander, or his guide on How to Start Building a Commander EDH Deck
Working on getting a better setup for Digital Thursday streams
The bio page is really starting to come along (Thank you, webmaster Braden, for your hard work there)
If you like fantasy based games like Small World you should check out this killer Lords of Waterdeep Lord Guide
Please Support Us!
Subscribe to our YouTube Channel

Proud to embrace the locally created moniker of "Corrupt Overlord" from one of the all time great Lords of Waterdeep runs, Shane is one member of the Assorted Meeples crew and will be hard at work creating awesome content for the website. He is a long-time player of board games, one time semi-professional poker player, and tends to run to the quirky or RPG side of things when it comes to playing video games. He loves tabletop roleplaying systems like Dungeons & Dragons, Pathfinder, Werewolf, Fate, and others, and not only has been a player but has run games as DM for years. You can find his other work in publications like Level Skip or Hobby Lark.