We are already half way through March. Who knew time would fly like this?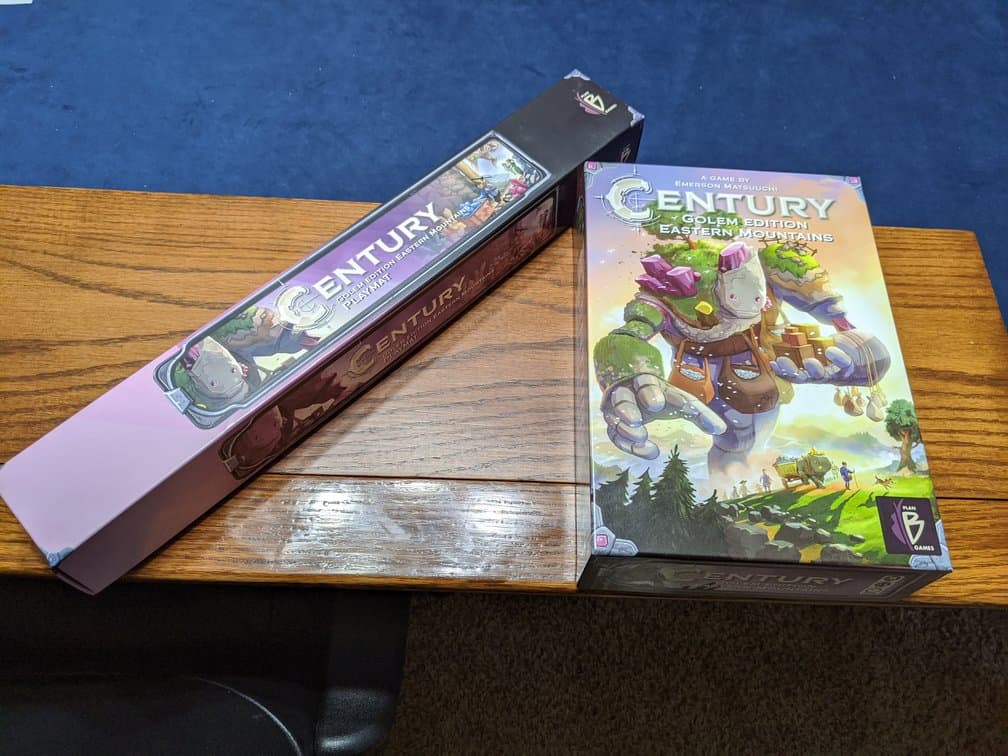 Main Game: Century Golem Eastern Mountains
Here at Assorted Meeples we are obviously big fans of the game Century Golem. That game is easy to learn, has plenty of strategy involved, and although deck building players like Braden definitely have an advantage, there's just enough luck than it can be anyone's game. Especially depending on which golems come up or which powerful cards are revealed for buying at what time.
This is also a game that really stands apart from many others. The uniqueness of game play makes it a really great change of pace game. Or a great choice when you're not sure what to play. It is so distinctly different from dice games and most card based games, making it a fun and delightful option to move into your rotation.
This week Corrupt Overlord, coming "fresh" off a surgery gone sideways will be behind the laptop interacting with chat and heckling the rest of the table tackles this game that Phil vouches for. Even more exciting, our SPECIAL GUEST Sorlus. Sorlus has been a long-time supporter of our channel and runs a kick-ass Twitch channel of his own. If you haven't checked it out or followed him yet, please do!
It's going to be a delight to have him here with us for a collab of this evolution of the Century Golem crystal game. Obviously I (Shane) will be cheering for him versus those other jerks.
And maybe St. Christopher. They should form an alliance or something.
Hopefully this game turns out to be as exciting and entertaining as the original, if not more so.
Join us. Heckle Phil, say hello to Sorlus, and enjoy our always awesome chat as we play Century Golem: Eastern Mountains tonight on Twitch starting at 6:30 CST.
Please Support Us!
Subscribe to our YouTube Channel

Proud to embrace the locally created moniker of "Corrupt Overlord" from one of the all time great Lords of Waterdeep runs, Shane is one member of the Assorted Meeples crew and will be hard at work creating awesome content for the website. He is a long-time player of board games, one time semi-professional poker player, and tends to run to the quirky or RPG side of things when it comes to playing video games. He loves tabletop roleplaying systems like Dungeons & Dragons, Pathfinder, Werewolf, Fate, and others, and not only has been a player but has run games as DM for years. You can find his other work in publications like Level Skip or Hobby Lark.