Another week has passed by and it's hard to believe we're already looking at March! We've officially been at this for three months now, and we look forward to these Thursday game nights as much now as we did in the beginning. Maybe even more so. It seems impossible that chat would get even cooler and yet you guys have managed to do just that.
If you haven't caught our streams yet and participated in chat please feel free. After all, game night starts at 6:30 every Thursday night on Twitch TV.
We also welcome our influx of awesome European followers to the group and love watching how chat continues to grow with us. We'll keep on being as entertaining as possible and doing what we do. You guys, remain awesome as well!
And this week we have a game that has been requested multiple times. It's a great one! This week we will be playing the part of railroad barons as we compete to see who will be the greatest of them all!
Featured Long Game This Week: Ticket to Ride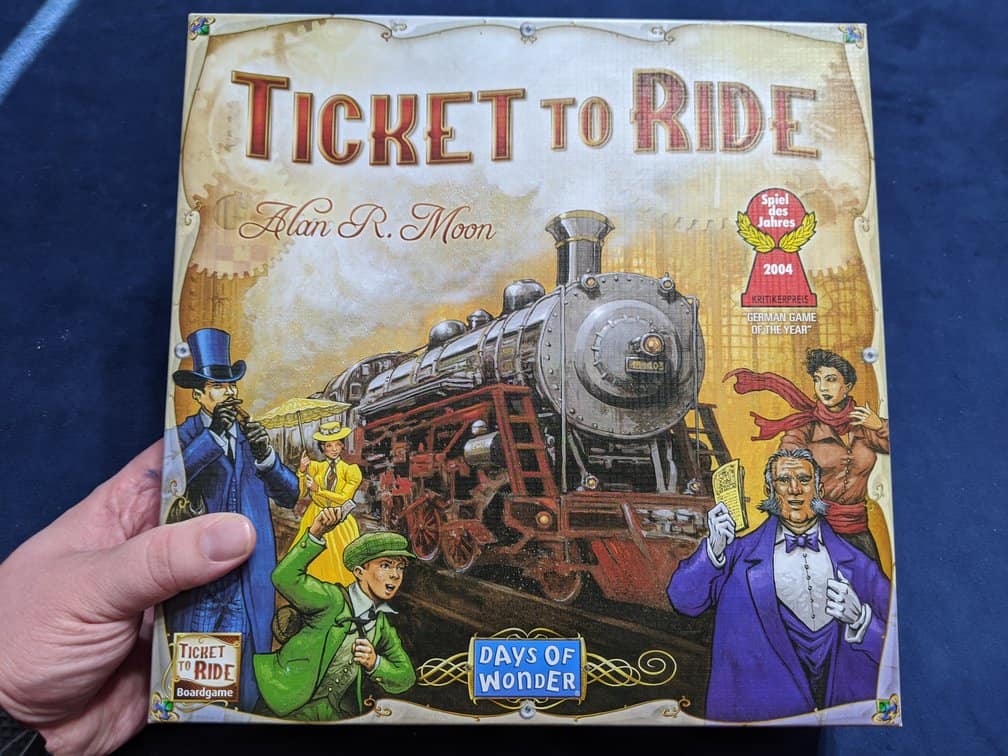 Ticket to Ride is a truly fantastic board game that involves strategy, challenge, and a little bit of luck. You need to guess at what other players need and try to block them, build your own long lines, and look at second and third options as the straightest paths to victory are often blocked off by other players' builds.
Then there's the pure luck of whether or not you can get the color track you need to actually make the lines that will help move you to victory. I've won games by 40 points and I've finished 20 points in the negative.
In other words, there are some pretty wild swings when it comes to this game.
That unpredictability is just one part of what makes Ticket to Ride so entertaining. There are so many ways it can play out and it is never the same two times over. Plus you get that rare game you connect Maine to Oregon through Georgia across Texas to California and up the coast…somehow. Priceless.
Take a look at this play through of Ticket to Ride from Tabletop. Classic.
Hope you enjoy the game play. We know we will!
Please Consider Supporting Us!
We are looking forward to seeing all of you tonight! If you're not following us already on Twitch, please give us a follow (or even subscribe!) or consider supporting us on Patreon. We really appreciate every bit of support you can provide to keep these game nights going and we hope to see y'all tonight!

Proud to embrace the locally created moniker of "Corrupt Overlord" from one of the all time great Lords of Waterdeep runs, Shane is one member of the Assorted Meeples crew and will be hard at work creating awesome content for the website. He is a long-time player of board games, one time semi-professional poker player, and tends to run to the quirky or RPG side of things when it comes to playing video games. He loves tabletop roleplaying systems like Dungeons & Dragons, Pathfinder, Werewolf, Fate, and others, and not only has been a player but has run games as DM for years. You can find his other work in publications like Level Skip or Hobby Lark.