Hey Meeples – we're up for another Thursday already! The past couple months have been flying by and we've been having a blast. The expanded Thursday night gaming sessions and plenty of Friday night Patrons' nights have been nothing short of awesome. Worms W.M.D. and Golf with Friends have been welcome additions as we make the most out of social distancing needs during these strange times.
So another week is coming up on us. We'll be starting with a 4 game player of Lords of Waterdeep and see where the night takes us after that. It's been a while since we've enjoyed Boardgamearena so we may have to jump in for a game of Sushi Go or something similar if time permits.
The Main News: Table for Two Show Launches on YouTube
So for a while now we've talked about shifting a bit with content to move to more show type formats on YouTube, because we felt like there was a lot we could bring to the table with this setup. With that in mind, Phil (aka Phhheeeeeellllllll) and his wonderful wife Heather have started producing a really cool, chill energy show for our YouTube Channel that we really enjoy. You should definitely check it out and subscribe to the YouTube channel if you haven't already (though we know you have – because you're wonderful, wonderful people, right?).
Introducing: Table for Two
This is a really cool idea and gives a really good balance to the sometimes crazy/manic energy we get in the larger group (online) get-togethers on Thursday and Friday. This is also a really cool way to see how strategy & play differs on a game when you only play the two player version. Which admittedly a lot of us have not played a ton of two player games recently.
For the first episode they play Century: Golem Edition, and the episode is chill, it's fun, and there are some pretty funny moments throughout. In short, it's pretty wonderful and we think what Phil and Heather are creating here is really awesome. We hope ya'll like it as much as we do! Table for Two will have a new episode on YouTube every Wednesday night.
I, for one, am looking forward to many more of these!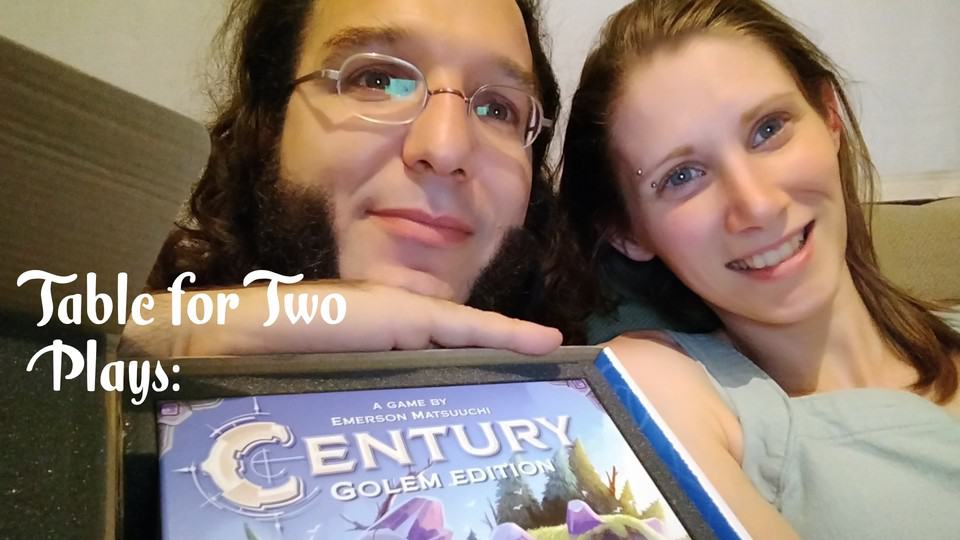 Welcome to a New Patron!
We received a new Patron this week, Tristan, who joined at the $5 level. We just want to give a big shoutout to our newest Patron and a hearty thanks! We're always happy to see new people joining the community and look forward to gaming, talking, and hanging around online in the future. Glad to have you on the Assorted Meeples team!
If you want to support us, please consider joining on Patreon. Every Patron gets access to our incredible Discord complete with GIF wars (so many GIF wars), video game discussion, movie and book discussion, hilarious conversations, and everything in between. You even get to hear some of Observing's amazing original music compositions and there's even a fitness challenge currently on-going. It's a pretty happening place full of extraordinary people.
$5 patrons and above automatically get invited to Patrons' game night and have a lot of influence as to what we play as a group. This has been an utter delight so far. They are a major part of our Discord community and we're looking forward to the upcoming Steam Sale to expand the number of games we'll have available.
Plus you get a cool nod at the end of our YouTube videos. Credits, man. Come have a look! Everyone there has been overwhelmingly positive with their feedback on the value they get from a mere $1 or $5 a month. Now if you'll excuse me, I need to go start a GIF war. Or maybe a Meme war. We'll see where my mood takes me.
What's Coming Down the Pipe?
Braden has been an animal with the Magic: The Gathering posts and you can expect those to continue!
Table for Two is up and running and will be coming with new episodes every Wednesday on our YouTube channel
Shane's Tharsis Review was a good one – you should check it out!
Shane and Braden are in the rough draft phase of getting a panel discussion show on D&D, and all topics gaming – coming soon
More Thursday Game Nights
More Friday Patron Nights
Braden is streaming old school RPGs on Twitch from 6:30 to 9:30 on Monday nights
Shane is streaming hilarious child murders playing Kindergarten Saturday morning 9:00 a.m. until Noon. We'll get that teacher yet!
Please Support Us!
Subscribe to our YouTube Channel

Proud to embrace the locally created moniker of "Corrupt Overlord" from one of the all time great Lords of Waterdeep runs, Shane is one member of the Assorted Meeples crew and will be hard at work creating awesome content for the website. He is a long-time player of board games, one time semi-professional poker player, and tends to run to the quirky or RPG side of things when it comes to playing video games. He loves tabletop roleplaying systems like Dungeons & Dragons, Pathfinder, Werewolf, Fate, and others, and not only has been a player but has run games as DM for years. You can find his other work in publications like Level Skip or Hobby Lark.