Well last week was a crazy good gauntlet, wasn't it? The score was 3-2-1, 2-2-2, or 2*-2-2**, or 3*-2-2** all depending how you look at it. In other words, we made things plenty confusing while blasting through six games of Splendor last Thursday. Each of us was thoroughly whooped at least once, each of us won at least once. The trash talking was real. The salt was definitely real. The looks of growing frustration from Braden and Callahan when they realized Shane suddenly went "happy silent." Oh yeah, plenty of those, too!
There was no lack of competition during that game and I feel like if you wanted to see the many different strategies you can use to win, the struggle to block other players and how differently the board can play out – we definitely gave you the full buffet there. One of those games in particular that opening board was the freaking epitome of a dumpster fire. You couldn't try to make a meaner starting board.
Shane also wore a cheesehead. That seems like an important and relevant detail. For that reason alone, feel free to hit our Twitch page to watch the action-packed replay.
This Week: Stone Age!
Also known as "Cave Man Fight Club," we will be hitting up Boardgame Arena to play one of our favorite board games. In fact, it was one of the two that we did a long form board game YouTube video about before the whole self-isolation thing became necessary. You should check it out if you haven't seen it yet.
This is a great strategy game that has several different strategies that can work towards victory and requires a lot of strategy, seeing what your opponents are doing and blocking them, as well as a small bit of luck. The ability to adjust strategy mid-game is also a major plus. Sometimes you see three competing strategies and then the board throws a curve ball. That's when things get really, really interesting.
This is a fun game, with a lot of fantastic traits to it. While we're not overly familiar with the new updates, the winter board does provide some more interesting buildings, igloos, cards, and more to make things even more interesting. And the board is just frankly beautiful.
Whichever route we go – tune in and what the fun. Rumor has it we will even have a Phil jumping back in from vacation to join us!
Of course there is now the special anniversary winter board available with some new buildings, mechanics, and even igloos. No word on whether they are going with classic or chaos.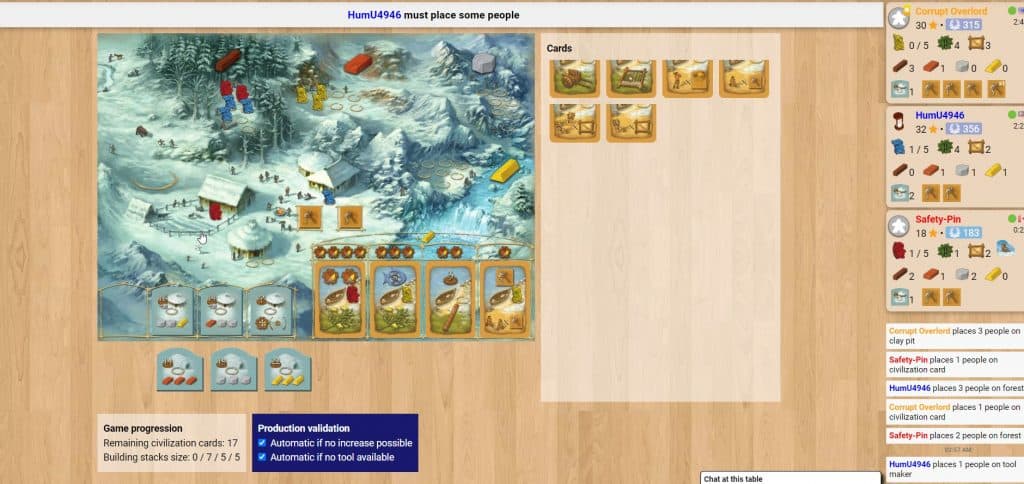 A Most Glorious Table for Two on YouTube
This is the longest episode Phil & Heather have delivered yet, but it's definitely worth the watch. Check it out and please subscribe to our YouTube channel if you haven't already! Even free actions like subscribing, commenting, and liking the video help us out so we can keep providing more great content.
Upcoming Schedule/Events:
July 24th: Patrons Night – Jackbox Games makes its absolutely amazing return!
July 30th: Small World – (I don't think they'll let me get Forest Tritons again)
August at some point: Special surprise, TBD (because, professional)
Aug 6th: TBD but probably either Overcooked 2 or Unrailed for quote, unquote, "Cooperative" teamwork games
And of course Braden streaming every Monday night (currently playing Bloodstained: Ritual of the Night) with Shane streaming every Tuesday night (alternating between West of Loathing and Kindergarten 2). It's a good system
Shane is planning an August surprise for Patrons if all goes well – stay tuned.
Please Support Us!
Subscribe to our YouTube Channel

Proud to embrace the locally created moniker of "Corrupt Overlord" from one of the all time great Lords of Waterdeep runs, Shane is one member of the Assorted Meeples crew and will be hard at work creating awesome content for the website. He is a long-time player of board games, one time semi-professional poker player, and tends to run to the quirky or RPG side of things when it comes to playing video games. He loves tabletop roleplaying systems like Dungeons & Dragons, Pathfinder, Werewolf, Fate, and others, and not only has been a player but has run games as DM for years. You can find his other work in publications like Level Skip or Hobby Lark.