Well hello, hello, hello! Greetings fellow Meeples, it looks like another Thursday is almost upon us! This has been an eventful week. Braden's stream on Twitch was great. Shane's could not stop buffering and had to be aborted early (BOO Mediacom!) but hey…he still decapitated a robot in Kindergaten 2 before it cut out so….silver lining?
We dove into Stone Age last week on Twitch for what was a really good game. Old Man Callahan's first. Always good to bring a new Neanderthal into the fold! Or maybe Callahan is a Cro-Magnon. At least his face sure is.
The full group should be here for another great game and we are looking forward to re-visiting one that did very well last time, and one where Shane will clearly have a target on his back after last time: Small World.
Yup, knives are out. No co-op games this week!
This Week: Small World!
We will be playing the Steam version. They've done actually a really good job setting up the online version so it works pretty well. This is one of those games where I'm quite honestly glad that the math is taken care of instead of relying on us to do the math. Two English majors and an Art major can do a lot of things. Fast, accurate adding generally isn't one of them 🙂
Small World is one of our favorite board games and a great one that mixes strategy and a touch of luck, while the pairings of skills with races leads to almost endless replayability and strategy. (If you love this game but already own the original, please consider supporting us by purchasing one of the sequels like Small World:Underground or the Small World: Skylines expansion through our Amazon links). In other words the game changes each time.
Though it's almost a certainty Shane will never be allowed Forest Tritons again.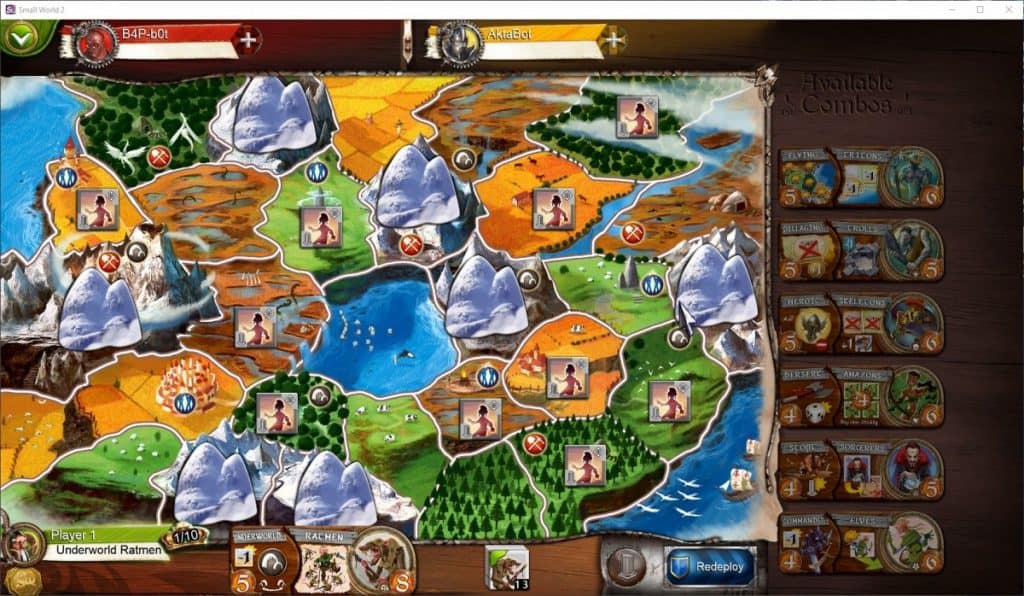 The rematch should be fantastic and we are looking forward to fantasy adventure shennanigans as we all vie for control of as much of the board as we can through the inevitable rise and fall of these empires.
Table for Two on YouTube
So first going to repeat that the one from last week was a long episode at a full hour, and it was worth every second. This was a great show and an absolute blast to watch! If you missed that one, you should check it out here:
That was a great episode and I wasn't disappointed to see a very good follow up. You can tell Phil & Heather are really hitting their stride when it comes to getting comfortable in front of the camera and delivering a great show. The fact these two play such good competitive 1 on 1 board games just makes it all the better.
So here is THIS week's Table for Two:
Upcoming Schedule/Events:
July 30th: Small World – (I STILL don't think they'll let me get Forest Tritons again)
Aug 6th: TBD but probably either Overcooked 2 or Unrailed for quote, unquote, "Cooperative" teamwork games
Aug 7th: Patrons Night
Aug 13th: Probably the other one of those fun cooperative games
Aug 20th: ???
Aug 21st: Patrons Night
Aug 27th: TBD
And of course Braden streaming every Monday night (currently playing Bloodstained: Ritual of the Night) with Shane streaming every Tuesday night (alternating between West of Loathing and Kindergarten 2 – assuming we can figure out the recurring buffering issue). It's a good system
Shane is planning an August surprise for Patrons if all goes well – stay tuned.
Please Support Us!
Subscribe to our YouTube Channel

Proud to embrace the locally created moniker of "Corrupt Overlord" from one of the all time great Lords of Waterdeep runs, Shane is one member of the Assorted Meeples crew and will be hard at work creating awesome content for the website. He is a long-time player of board games, one time semi-professional poker player, and tends to run to the quirky or RPG side of things when it comes to playing video games. He loves tabletop roleplaying systems like Dungeons & Dragons, Pathfinder, Werewolf, Fate, and others, and not only has been a player but has run games as DM for years. You can find his other work in publications like Level Skip or Hobby Lark.