While it might not be Stardew Valley 2, there's little question that there are millions of us who are crazy excited about Eric Barone, aka ConcernedApe's new game after nearly a decade working on Stardew Valley. Well on October 21st of 2021, fans no longer had to it as ConcernedApe's Twitter account dropped a 2 minute demo of early gameplay to his new game, titled Haunted Chocolatier.
Needless to say, speculation started running wild immediately and the interest was high, but what do we know for sure about this game? What other hints have been dropped in the past?
Well that's why you're here: to get the deep dive on what we actually know about the game, what others have noticed from the gameplay trailer, and what that might tell us about the game/
Haunted Chocolatier: Concerned Ape's Newest Game Announced
A look at the newly released preview of Haunted Chocolatier shows many of the same elements that made players fall in love with Stardew Valley, Concerned Ape's first game, but with some noticeable detail changes that give it a great spin and personality all its own.
First of all, if you haven't seen the Haunted Chocolatier Game Trailer, here it is straight from ConcernedApe's channel:
Haunted Chocolatier YouTube Game Trailer
You can also see the full official announcement he posted HERE at the website for the game.
It's a fantastic read and gives you plenty to chew over especially when you look at it side by side with the first video of gameplay.
Haunted Chocolatier First Impressions
I know why everyone who is a big Stardew Valley fan was so excited upon seeing the Haunted Chocolatier gameplay trailer drop. The opening music is great, soothing and relaxing, and the winter image shows graphics that are clearly inspired by Stardew Valley but with at extra little step up whether it's the details of brick work in distant buildings, or the little extra details on winter trees and nearby mountains.
The vibe is awesome and you can tell it's in the same spiritual vein of games as Stardew Valley while also already displaying small improvements that indicate the amount of time, thought, and love that ConcernedApe has already poured into the game.
The town looks a little busier than Pelican Town – although we don't know that for sure. I do like the movement we're seeing, and again the little attention to detail in graphics is really fantastic. Look at the way the light "triangle spills" from the windows, for example.
The interior of what I assume is the house attached to the Chocolate factory is just dope. And the sound – again little details that are next level yet familiar from Stardew. The puff as a fire is turned on, the crisp crackling of branches burning, it's so good. The use of light and shadow seems to be much more i-depth, as well, creating that cold winter mood that I'm really appreciating.
And are we going to talk about the seemingly magical door that looks like it leads to another dimension? Because that's adding some freaking cool RPG vibes to this game and I'm all about that.
Familiar slimes give way to crows and other weird enemies, and the RPG idea might not be too far off the mark as we see a club/sword? A melee weapon of some type as well as a shield and bow & arrow, which is really exciting!
They drop food ingredients as "loot" and those get tossed into the pot of chocolate. I assume that different ingredients either lead to different types or different qualities of chocolate.
Then this is more like a management game in its current form. Instead of throwing crops into a bin for food, you're developing a shop and building it out how you want to sell the chocolate you make.
And ghost helpers. Clearly we will be flooded with adorable ghost helpers and I'm all about that.
Also I have a feeling I'll like Burk the blacksmith more than Clint. In our very limited look at him he just looks jolly AF, and look at that magnificent beard!
The background details really add a deep life to every location that was shown in the preview, and I'm really excited about what looks like a duel world game with a lot in the other world through the door and coming back to upgrade the chocolate as well as the chocolate factory. The mechanics for upgrading things do look a lot better and might be a major part of gameplay.
All kinds of new stuff here that is clearly still along the same inspirations of Stardew with graphics and look, but in all the details it really does feel like a lot of inspiration/elements from Stardew but also a touch of stepping up the graphics and details to make an even more in-depth world that comes to life.
Haunted Chocolatier Review: What We Know So Far
There's a lot here that can, and will, change over time as there are future updates, releases, and if you've ever watched the early videos of how Stardew Valley looked versus the final release – there's a world of difference from where the project started and where it ended.
Still, the early look here is exciting and I'm hyped.
Reading the game announcement for Haunted Chocolatier, a few things do definitely stick out from the announcement that ConcernedApe released with the new game:
He intends for the game to be positive, uplifting, and life-affirming (no one should be surprised her)
More fantastical possibilities and experiences beyond the extraordinary – that's quite a promise
He's having a ton of fun creating this game
He felt a bit constrained by the traditions that led to Stardew Valley (no shade), but this is a chance for him to try things "unleashed" creatively speaking
You will have a chance to murder those F'ing crows! What Stardew player DOESN'T dream of that?
What Do We Know about Haunted Chocolatier?
We get to murder crows! Okay so maybe this shouldn't be top of the list but anyone who has played Stardew Valley knows the hatred that comes with that early spring when the crows come before your first scarecrows…or find the three spots they don't cover in your setup. It's time for revenge baby!
At least some ingredients come from foraging and fighting in…wherever that probably magical door leads to. We see nectar, milk, and huckleberry as ingredients dropped in the video, followed by them being tossed into a chocolate vat.
Looks like a good mixture of NPCs. While this can certainly change later we meet Lily, Burk, Maddie, Jett, and Nigel while seeing other NPCs and between the character art and the feeling of perhaps a slightly larger (or at least more compact and busy) town.
This is another solo project. Considering how well Stardew Valley went, this is something that makes me happy. I want him to have complete creative control over a project that he loves. He mentions bringing in help for porting to consoles but otherwise his plans are to go the solo development route with this one.
We're a long way from a finished project and Eric Barone is not going to be pushed into rushing it. One of the main reasons he went solo again is the games he designs are passion projects, and he has stated that he went solo because he
You are a chocolatier living in a haunted castle. I know, super basic, but can we take a moment to reflect on how freaking cool a line that really is?
What Don't We Know about Haunted Chocolatier?
Does it take place in the Stardew Valley Universe? One interview says it does, but looking back at the source that might be a mis-report. Then again ConcernedApe's comments were simply that he wasn't ready to reveal that information yet. So we just don't know.
What genre is it?/What game is it most comparable to? There's no doubt ConcernedApe's unique style will go into the new game, but we just don't know enough to make a guess. He himself states that some themes will be very familiar to Stardew Valley players while many other parts will be completely different. Is this Tycoon + RPG? Town Sim + Tycoon? RPG + Tycoon + Sim? Probably a bit of all of them but who knows?
When will the game be ready? I don't think we'd be seeing a trailer if there wasn't a really strong base for the game already in place. However, he is designing the game solo and has stated that he doesn't even know the full scope or scale of it. My random guess would be 2 to 2.5 years, but that's just that – a random guess at this point.
Anything about a main plot line. We know there will be one, but beyond that, nada.
Speculation, but Reasonable Based on Logic
Most of the activity might be at night, at least in the town. All the in-town screenshots seem to be in winter and at night. All the day shots seem to be through the magic dimensional door or whatever it is that leads to a different area. Will this hold up? Maybe, maybe not, but it's certainly intriguing.
There will be even more NPCs. This is a world that gives him a chance to let his mind run wild. Maybe there are more no-dialogue NPCs but even in limited shots there seem to be a lot of activity going on and I'd be surprised if in 10+ years of thinking of Stardew Valley and seeing popular mods that character ideas didn't abound.
More to come…
Stardew was a 10+ year project that not only a fully polished and amazing game when released in early spring of 2016, and that game still was expanded, grown, and added to in even more spectacular ways to what we know today. It's completely reasonable to think Haunted Chocolatier will take the same path.
New Year's Pictures of Haunted Chocolatier
Concerned Ape's twitter released this amazing screenshots of the game in development. One seems clearly in the winter world where the haunted chocolate factory seems to take place, and one picture seems to be in the summer land accessed through a magical portal.
Both pictures have the types of details that have SV fans drooling.
The summer land pic: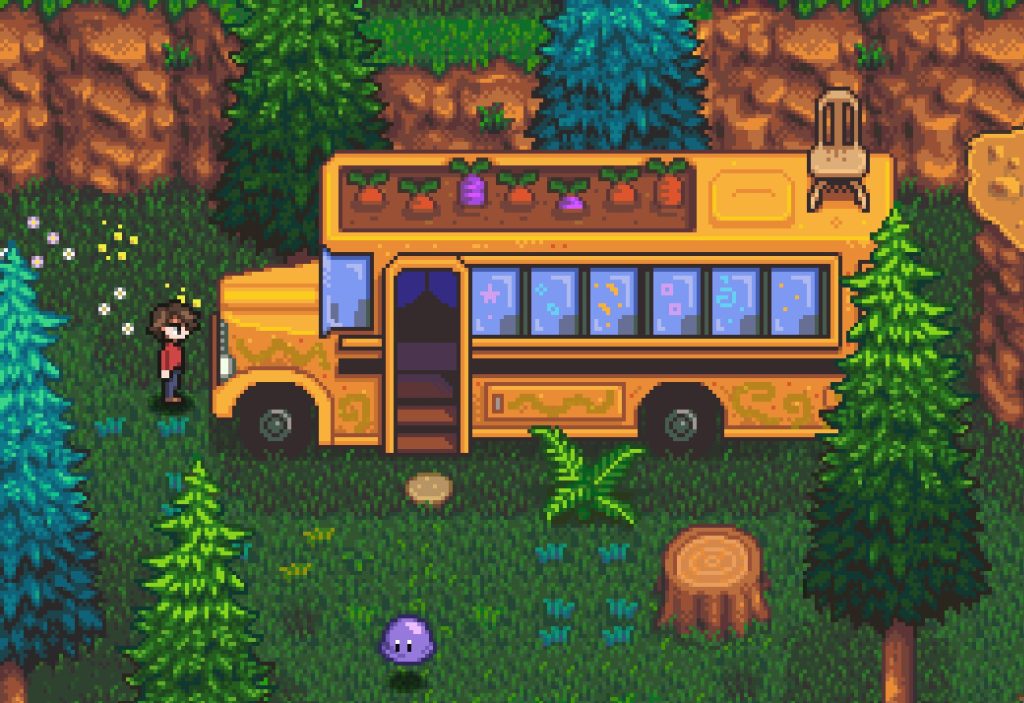 The winter land pic: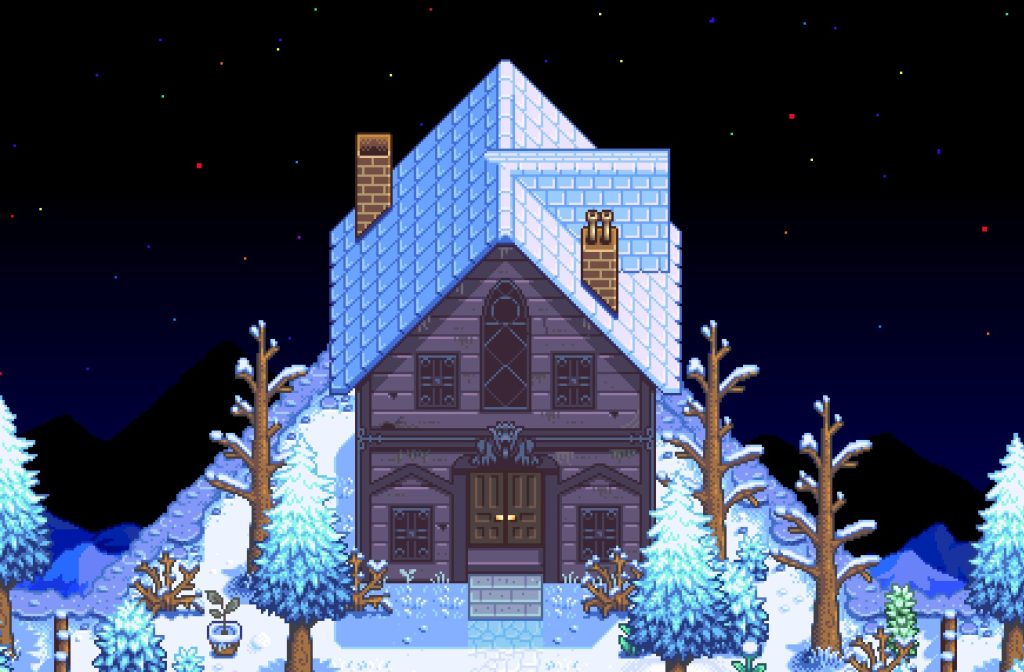 Here's to a Happy New Year of waiting for Stardew Valley fans!
Time Line Up to This Point
Full (known) timeline of development of ConcernedApe games that will be updated as things change and more information becomes available.
September 1, 2012 – Original trailer for Stardew Valley is released.
February 26, 2016 – Stardew Valley is released, ConcernedApe's first publicly released game, an homage to his love of old classic Harvest Moon games, and this Steam success story sold 400,000 copies within two weeks.
May 1, 2016 – Stardew Valley sells over a million copies and the legend begins.
Dec 21, 2020 – Stardew's Biggest and most famous update, 1.5, was released for PC. It would be rolled out for consoles in the following months. This included the long awaited multi-player as well as new farm layouts and an entirely new area, NPCs, and the full array of crops, adventures, and new mysteries to unlock.
September 5, 2021: Eric Barone confirmed on UnsurpassableZ Twitch Stream that he was not working on new Stardew Valley content because he was working on a new game. Interestingly enough Barone, better known by his handle ConcernedApe, stated he wasn't through with Stardew Valley though whether those would be future updates, DLCs, or a sequel "Stardew Valley 2," he wasn't sure.
October 8 2021(?): While the announcement is dated October 8 it wasn't widely discovered until after the trailer dropped. So this may have been the first announcement, kept under wraps until ConcernedApe was ready to drop the early gameplay trailer, or the date might be when the blog post was started but not published, as post dating isn't a standardized thing.
October 21 2021 – ConcernedApe released the first public gameplay trailer for Haunted Chocolatier
1 Hour Later – Fans collectively and understandably lost their minds 🙂
October 21-22: The internet was flooded with reaction and analysis videos that we devoured.
Jan 1: Concerned Ape releases two more screenshots of Haunted Chocolatier in development, giving excited fans more of a taste of the sequel to Stardew Valley (in chronological order if nothing else)
Future Updates Pending…
When Will the Next Haunted Chocolatier Announcement Be?
Hard to say. One major advantage of having made such an incredible game like Stardew Valley solo is that ConcernedApe is allowed to call his own shots as far as scheduling, updates, etc.
While this definitely causes an inherent "Aw man" reaction, I'd much rather get very little news sporadically and every so often and get the game that ConcernedApe is envisioning than something rushed out or that becomes less fun for him to develop because of pressure. I want that joy he has for the idea pouring into the game.
That's how you get a once in a decade game like Stardew Valley, and hopefully Haunted Chocolatier follows in those footsteps!
So What Now?
There will be plenty of updates in the future as more information comes out, but this isn't meant to be a clickbait speculative piece. So it will get updated when real information or updates come out. Hopefully this will be a great Haunted Chocolatier resource right up until the time of launch. Like many of you I'll be waiting for this new game with excitement and baited breath until it's out!\
There aren't many games I pay full price for, but considering this is the chronological and spiritual successor to Stardew Valley, I'm all-in on this one the moment we have access!
Proud to embrace the locally created moniker of "Corrupt Overlord" from one of the all time great Lords of Waterdeep runs, Shane is one member of the Assorted Meeples crew and will be hard at work creating awesome content for the website. He is a long-time player of board games, one time semi-professional poker player, and tends to run to the quirky or RPG side of things when it comes to playing video games. He loves tabletop roleplaying systems like Dungeons & Dragons, Pathfinder, Werewolf, Fate, and others, and not only has been a player but has run games as DM for years. You can find his other work in publications like Level Skip or Hobby Lark.