The weeks just fly by, don't they? We've got some really exciting things going on here at Assorted Meeples. We'll get to some of those in a moment, and others will have to remain a surprise just a little bit longer, but Thursday is here and that means one thing: board game night. We're not going to let sub-zero temperatures slow things down!
While getting back to Settlers of Catan after so much time away was great, and Kittens in a Blender definitely delivers on its promise (sorry Napoleon Cat – we were so close to victory), another week means a new slate and this week's is a good one!
Long Board Game: GoodCritters
GoodCritters is an outstanding board game that brings an interesting array of different strategies to the table as you are introduced to the world of organized crime…via furry cuddly woodland animals. And yes, the game is even more entertaining than it sounds.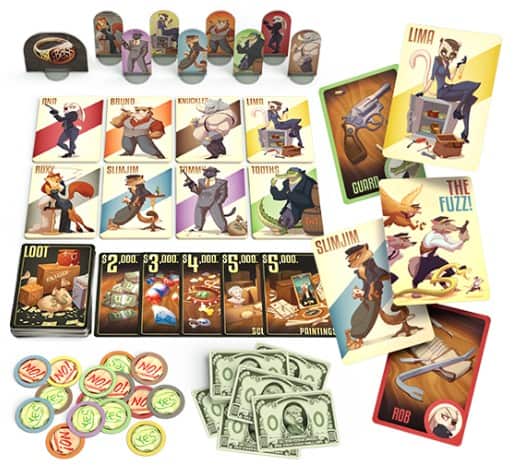 Do you strive to be head of the critter crime family to control passing out the loot, or do you accept the highest bid to constantly be bribed? How do you keep others happy with you while setting yourself apart for victory? Also do you prefer stealing cash, art, jewels, or something else entirely? Do you play it straight, or steal from your fellow critters?
Trying to move across that tightrope is a challenge as you will need the help of others while also strategically sneaking away whatever you can get away with.
This is a great game with a surprising amount of strategy. The art is fantastic, the game play is fast, fun, and unique, and there's a reason we're such big fans. We hope you'll come join us Thursday night for an awesome game of GoodCritters!
Short Board Game: Joking Hazard
Joking Hazard is made by the creators of the Cyanide & Happiness comic. If you don't know what that is, follow that link. As long as you don't mind not family friendly humor. This is a very widely well-known comic and is perfect for people whose sense of humor falls between dark and "for terrible people like us."
This is the comic-making card game based on the comic. Enough said. NSFW humor and hilarity is sure to follow.
We Have a YouTube Channel Now!
So big news that we can share at this point: we have a YouTube channel now! Visit the Assorted Meeples YouTube Channel and please subscribe! We will be coming out with plenty "How to Play" rules videos for our favorite board games, strategy videos, our Thursday board game nights (in case you can't catch them in person), as well as some special long-form videos coming up in the future.
Subscribe, watch any videos that look interesting or fun, and please like and comment. We would love to hear from you and build up our community there!
We are looking forward to seeing all of you tonight! If you're not following us already on Twitch, please give us a follow (or even subscribe!) or consider supporting us on Patreon. We really appreciate every bit of support you can provide to keep these game nights going and we hope to see y'all tonight!
Proud to embrace the locally created moniker of "Corrupt Overlord" from one of the all time great Lords of Waterdeep runs, Shane is one member of the Assorted Meeples crew and will be hard at work creating awesome content for the website. He is a long-time player of board games, one time semi-professional poker player, and tends to run to the quirky or RPG side of things when it comes to playing video games. He loves tabletop roleplaying systems like Dungeons & Dragons, Pathfinder, Werewolf, Fate, and others, and not only has been a player but has run games as DM for years. You can find his other work in publications like Level Skip or Hobby Lark.