Subscription services are a big part of the online ecosystem these days, but back in the early days of Xbox Live, there just weren't that many successful models like it around. Sure, most of us shelled out that $49.99 each year so we could play our favorite multiplayer games online (okay, just Halo 2), but it set a standard that Microsoft has made bank on for over 20 years.
While Xbox Live Gold is still required to take full advantage of the multiplayer experience on an Xbox console today, June 1, 2017 introduced an evolution of this service that brings more to the table for console gamers and opened the Xbox playground to PC gamers – Game Pass.
So what does Game Pass offer? Is what you get worth $10-15 a month?
With unlimited access to a catalogue featuring hundreds of games, Game Pass is worth it for anyone who plays a variety of video games or wants affordable access to new titles. For those who already own a lot of the titles Game Pass offers, play specific games for long periods, or buy a lot of games on release day, Game Pass often isn't worth it.
Naturally, there's a lot more to unpack here – especially since you have several plans to choose from, different experience possibilities based on whether you play on PC or Xbox, and also have to consider just how many hours you'll play on Game Pass each month.
To see if it meshes with your gaming needs, let's begin by breaking down what comes with a Game Pass subscription.
Game Pass Perks and Plans
Microsoft's Game Pass offers 3 different plans, which are tailored to PC gaming, Xbox console gaming, or both. Here's what each comes with: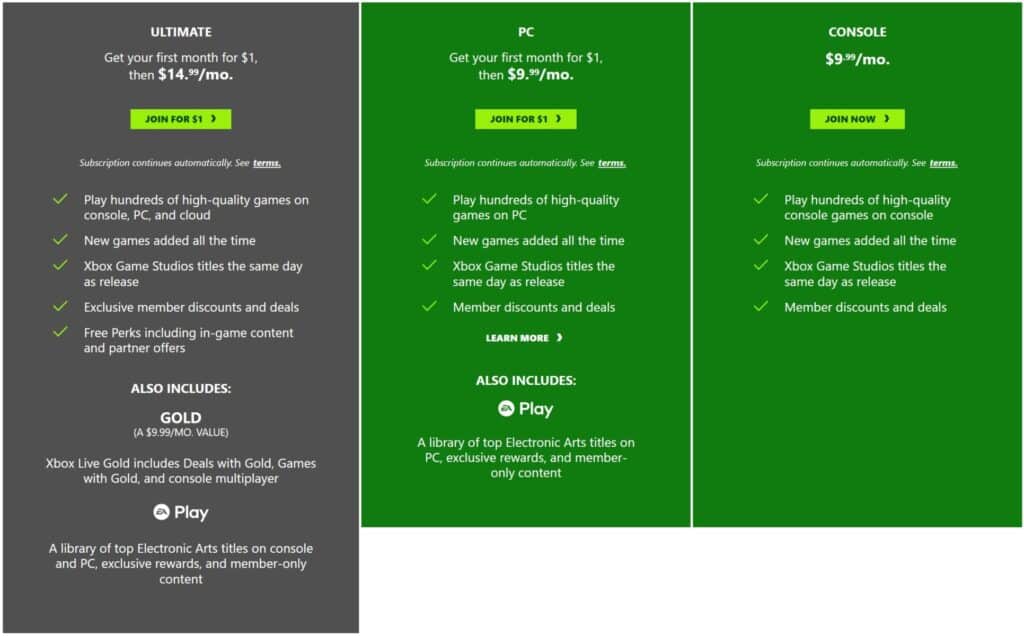 When looking at the PC, Console, and Ultimate plans, there really aren't a lot of differences. All the plans include:
Unlimited access to hundreds of games (library may vary depending upon whether you're playing on PC or console)
A library rotation where new games are periodically added and removed
The ability to play new Xbox Game Studios titles from release day onward
Access to discounts and deals on games (up to 20% off when buying games in the Game Pass catalog, plus up to 10% off on DLC for games that are between 31-90 days old, or up to 20% off on DLC for games greater than 90 days old)
PC and Ultimate Game Pass holders also receive access to an additional library of games through a partnership with EA, which requires installation and use of the EA Play app.
Ultimate Game Pass subscribers further receive access to Xbox Live Gold. While this plan indicates your discounts and deals are "exclusive" and you receive free perks, I haven't been able to find anything that differentiates Game Pass Ultimate's unique offers from those of Xbox Live Gold or other Game Pass plans – meaning the same plan benefits are being claimed twice.
Real classy, Microsoft.
Despite this tricky bit of marketing, it's impossible to deny that each of these plans brings some solid value to the table. That said, it's also worth noting that the differences between plans are surprisingly substantial, and will play a crucial role in helping you decide which plan is going to serve your needs best.
Xbox Game Pass Review
The Xbox Console Game Pass is aimed at people who want instant access to a wide variety of games on their Xbox, but aren't invested in the idea of online multiplayer. As someone who generally wants to see 1 hour of entertainment per dollar I spend on a game, you only really need to spend 10 hours a month playing games to get your money's worth in my book.
That equals maybe 2 afternoon binge sessions during weekends or a couple of hours of gaming after work each night after work for a week. Very easy to achieve for diehard fans and casual gamers alike. No complaints here, especially since you can get access to brand new games without shelling out $60+ apiece on release day.
There are 2 potential pain points with this plan that make it the weakest of Microsoft's offerings, however. The first is that if you get really hooked on playing a specific game, or a handful of specific games, it's always going to be less expensive in the long run to just buy the games you'll keep coming back to outright.
Not a big deal if you catch on early – you can just buy the games you want after trying them out with your Xbox Game Pass discount, then cancel the Game Pass subscription until you're ready to start exploring the library again.
The second, however, is that you don't get access to the EA Play library, which features access to games like The Sims 4 and SimCity – games that are tailor made for this type of audience.
I recognize this was likely done to strip out the possibility of getting to play online multiplayer games on an Xbox without access to Xbox Live Gold, but that's a pretty flimsy excuse when you see that this limitation isn't present on the comparable PC Game Pass.
For these reasons, most console gamers should just skip this plan and pay the extra $5 for Ultimate Game Pass. If you're anything like me, playing games with your friends and access to a bigger library of decent games (even if it's from a publisher as awful as EA) is easily worth the extra $5 a month.
PC Game Pass Review
If the majority of your gaming is done at a computer, the PC Game Pass delivers exceptional value compared to either of the other Game Pass plans. While this appears strange at first glance, this makes a lot of sense once you realize Microsoft has to compete with the like of GOG, the Epic Games Store, and of course, Steam.
I elected to try the PC Game Pass so I could play Teenage Mutant Ninja Turtles: Shredder's Revenge shortly after its launch. A great cooperative beat 'em up experience, but not a game I'd want to pay $25 for on Steam then play only once. Add in that my first month was $1, and I felt like I got more than my money's worth after an evening of gameplay with my friends.
Since Microsoft isn't trying to shill Xbox Live Gold to the PC populace, you do also get access to the EA Play platform on this plan, making a good library of games even better. Unfortunately, EA also decided to impose their proprietary platform on Game Pass users in order for them to play their games. You win some, you lose some I guess.
Fortunately, Microsoft took pity on those of us who hate navigating multiple launchers and made a short, extremely helpful video to guide users through installation of the EA Play launcher, which makes what could have been a treacherous ordeal extremely easy.
The only potential pitfall of the PC Game Pass is if you're an enfranchised PC gamer who has at least a few years under their belt. While a library of games ranging from as old as Myst to present day releases is incredibly good value, a library built up from years of Steam sales is going to have considerable overlap with Game Pass.
This doesn't mean you can't or won't find value in this $10 a month plan – but you'll probably be using it to play Microsoft's exclusive titles, games that escaped your notice on Steam, or to enjoy new releases before they get that sweet 50-90% discount treatment during seasonal sale events.
Ultimate Game Pass Review
For those who spend a lot of quality time with their Xbox, or split their gaming time between their Xbox and PC, this is the plan you should go with. Xbox Live Gold alone is $6.66 per month at its lowest price point (6 month plans), so if you're planning on playing any online multiplayer, this will pay for the $5 difference from Xbox Game Pass and then some.
Ultimate Game Pass also gives you full access to the Xbox and PC game libraries, which while similar, do each feature exclusive titles that cannot be made available for both platforms.
Best of all, if you already have Xbox Live Gold, you are able to be credited for up to 36 months of time when upgrading to the Ultimate Game Pass. Codes can also be redeemed for Xbox Live Gold and Game Pass, though conversion ratios can vary.
As with the PC Game Pass, your mileage with the PC's library of games may vary based on your overlap with purchases from Steam, Epic, or other similar online game resources, and the same is true with the Xbox Game Pass library if you buy a lot of games for your Xbox.
If you're new to the hobby or simply have a limited gaming budget, however, you should have no trouble getting your money's worth out of Ultimate Game Pass.
Which Game Pass is the Best?
While all Game Pass plans usually provide good value for anyone who spends at least 5-10 hours a month playing video games, the best Game Pass plan depends on the platform(s) you game on.
If you play a lot of different single player games on your Xbox and don't play online multiplayer, the Xbox Game Pass is best for you.
If you primarily play games on your PC and want an instant collection to choose from, the PC Game Pass is best for you.
If you play multiplayer games on your Xbox or play a lot of games on both Xbox and PC, the Ultimate Game Pass is best for you.
If you prefer to own new games on release day, have a sizable collection of games that overlaps with the Game Pass library, don't game on Xbox or PC, and/or like to spend many hours on one game at a time, no Game Pass plan is going to be right for you.
No matter which camp you fall in, you'll either open up a lot of new options to choose from when trying to find a fun video game to play or discover that you won't need to lose any more sleep wondering whether the Game Pass is worth your time.
Win-win as far as we're concerned.
Other Video Game Articles of Interest
Braden is a founder of Assorted Meeples and has been a gamer & writer with a vivid imagination all his life. Don't believe us? Check out his excitement when meeting Goosebumps author R.L. Stine as a kid! An avid Magic: The Gathering spellslinger for over 15 years, you can always convince him to shuffle up for a game (or three!) of Commander.