Table for Two is back for its third season and Phillip couldn't wait to get Moonshine Empire to the table after picking it up at Gencon this year after having to pass on the Kickstarter for it. I was interested after I found out it had moonshine lovin' gators and bribable sheriffs, that and meeples that held onto the moonshine as you run it around the board.
You can only get it from the producers themselves here.
If you want to have wacky shenanigans involving making moonshine and possibly getting gators drunk without going to jail, Moonshine Empire is a game you should look into picking up.
Moonshine Empire YouTube Let's Play
About Moonshine Empire
Pappy announced his retirement and decided to have a contest to see who gets his tavern and moonshining empire, impress him by the end of the night and it is yours. You get 8 rounds to deliver the most moonshine and make the most money.
First is determining turn order by drawing player's cubes into the line up. This includes the sheriff and gators for during the movement phase. Then you add a 'shiner to your camp and assign them to work at a still to make moonshine or moonlight some work for cash.
Second pick a customer order to try and fulfill. One card for each player and you can only have three open orders at a time.
Third part is having an auction for thing, from still to vehicles to money. One card for each player, players pick how much they are betting and reveal at the same time, highest going first. If you bet no money in the auction reduce the cards by one.
Lastly you can move your 'shiners around the board by foot or a vehicle of many different types, trying to deliver moonshine to customers at Pappy's tavern in the middle or to Pappy for money.
What Phil & Heather Think
Moonshine Empire is a great game from first time developers. This game is easy to learn, fun to play and requires a bit more thinking then I would have thought at first.
Our only complaint that I have is that the turn order feels a bit clunky as it didn't settle into a simple rhythm for us.
Phil's Take
I was okay with missing the Kickstarter for this but when the opportunity arose to buy it at Gencon with cash in hand, I jumped on it without a regret. After a few plays I still have no regrets about it. It does a great job of using its theme and mechanics to create a solid game.

Phil, unregrettfully poorer
Watch the Moonshine Empire let's play video here!
Please Consider Supporting Us!
Subscribe to our YouTube Channel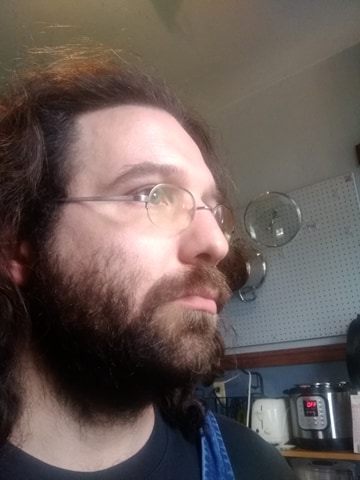 Phil is an avid gamer who not only loves board games (he has played 100's) but is one part of the "Table for Two" board game YouTube series and has designed several of his own board games. In addition to gaming he is all about the DIY life for creating gaming shelves or additional pieces and has a luck with dice that is mathematically infuriating to everyone else at the table most of the time.