My Little Scythe is one of the best reductions of a game from heavy crunchy planning strategy game to adorable kids planning games. If you offered me this or Scythe, I would pick this one pretty much every time with any group.
The game has all of the good points of Scythe, with its own unique spin, and gets rid of the denseness that many gamers don't like about the original.
Pick yourself up a copy of the game here!
And check out this episode to see if My Little Scythe board game is right for you!
About My Little Scythe
In My Little Scythe you choose an animal kingdom to play as to collect four trophies first. You can get a trophy 8 ways: deliver 4 apples/gems to the castle in the middle, getting 8 friendship/pies, completing 2 quests, upgrading 2 times, winning a pie fight, collecting 3 spells.
On your turn you are going to choose from 3 main actions with 6 actions total. You can move to gather resources; you can seek out resources that are rolled on the dice and added to the different biomes on the map; or you can make pies, spells, or upgrades using the resources that are in a space occupied by one of your people.
What Phil & Heather Think
In taking the two boards where you always took the top action and could take the bottom action if you had the ability/recourses to and combining them into one streamlined set of actions, it took the confusion away for Heather.
It also makes planning your game out better as well. The resource generating dice also add a bit of randomness that is needed to keep the game from being just a mechanical plan.
Phil's Take
This game would be on my short list of games to save during the fire. Not that I don't like Scythe but this sets out in 5 minutes and played in 20, that is a win for my family. A good stepping stone in to the heavier strategy world if that is where you are going in the gaming hobby.
We hope you enjoyed our Let's Play of My Little Scythe on YouTube.
Please Consider Supporting Us!
Subscribe to our YouTube Channel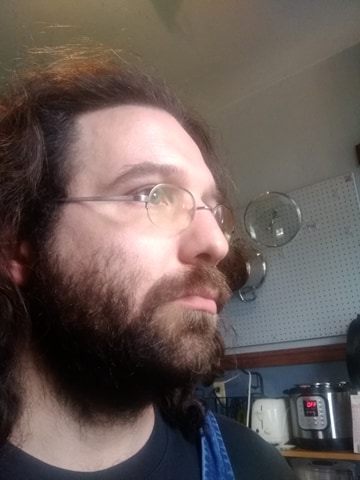 Phil is an avid gamer who not only loves board games (he has played 100's) but is one part of the "Table for Two" board game YouTube series and has designed several of his own board games. In addition to gaming he is all about the DIY life for creating gaming shelves or additional pieces and has a luck with dice that is mathematically infuriating to everyone else at the table most of the time.