Stardew Valley is a game that many tens of millions of gamers are very familiar with, and for good reason. This is the most popular farm-life sim ever created, and tens of millions of players play the game solo and with friends.
Stardew Valley is not cross platform and there are no plans for it to become cross platform in the future. Unfortunately, this means a player can't move a farm from one platform to another, and friends on multiplayer mode must all being using the same console to play.
Which means unfortunately any farm file started on one console will have to stay on that console and won't be able to move or be ported to another. Likewise, if I want to play with three of my best friends we need to all be on Switch or all be on Steam/PC or all be on whatever system everyone on the multiplayer farm can share.
We'll dive deeper into this to see why Stardew doesn't have cross save or cross play, and what it would take to add this feature.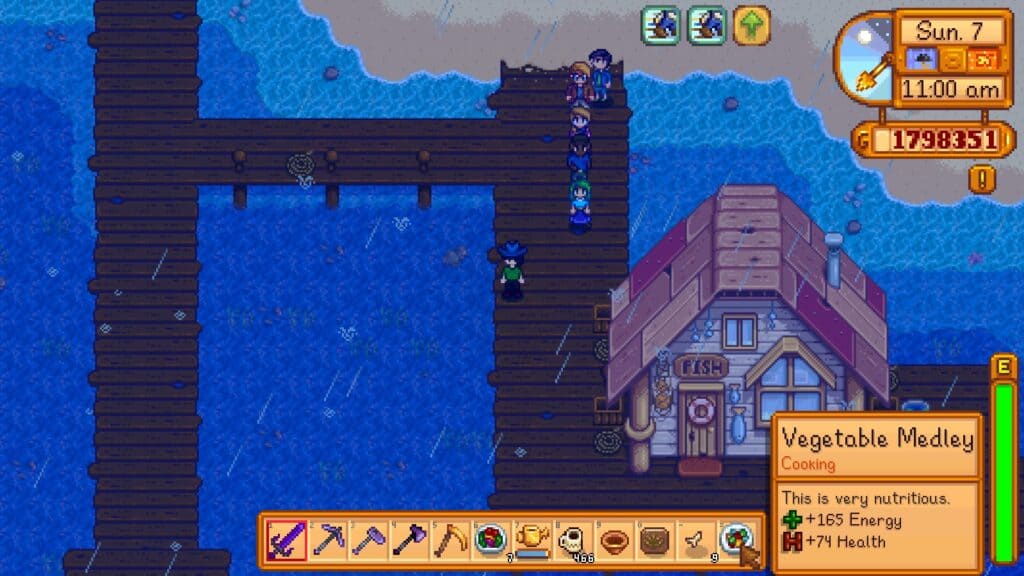 What Is Cross Platform?
Considering how popular Stardew Valley is, and how great the multiplayer can be with friends, it makes sense that of all the games out there where you'd really want to be able to play your Steam version with your brother's PlayStation 4 version or your best buddy's Switch all on one farm, Stardew would have to be near the top of the list.
Cross platform means that someone one one platform or console can play multiplayer simultaneously with a player on another system. So Player A on a Nintendo Switch could be on a multiplayer farm with Player B on a PlayStation 4 and with Player C playing on PC via Steam.
Stardew Valley cross play would be great because it would allow each player to use the console they were most used to and enjoyed the most.
Unfortunately the technical challenges are extremely high for pulling off stable cross platform playing even for studios with massive teams, and although Eric Barone has hired some help for the more challenging technical aspects of updates he is still mostly a one man show.
His previous answer on this topic is clearly laid out in this Tweet from 2018 and hasn't changed when asked about it since:
Unfortunately, there ill not be crossplay. Apparently, the technical barriers are very high. It's still something I really want to add and I promise to look into it more closely, but first priority is getting the update out there.

ConcernedApe, Twitter Tweet 2018
Will Stardew Valley Ever Become Cross Platform?
While the thought would be ice, according to ConcernedApe there are no current plans to make Stardew Valley cross platform and it seems unlikely this will change anytime in the future. Keep in mind that this is a game being developed by one man, grown by one man, maintained by one person.
Creating a cross platform game is hard and often requires teams, contracts, active trouble shooting, and it's just generally beyond the scope of what one person can usually handle. The (in)famously long delays in the 1.5 Stardew update coming out to Android and iOS show how difficult just one platform can be, much less getting all of them to play together nicely.
While this could always change in the future, Stardew Valley even in multiplayer isn't cross-platform right now and it seems unlikely that will change, especially as focus goes on occasional content updates to the base game as well as development of Haunted Chocolatier.
Stardew Valley FAQ
Why isn't Stardew Valley cross platform?
The technical challenges are overwhelming for one individual to pull off.
Is Stardew Valley Cross-Save?
Unfortunately not. Stardew Valley is not cross save or cross play and there doesn't seem to be big interest from major developers like Sony, Nintendo, or Xbox for making that happen, and the technical challenges for one programmer are overwhelming, making it unlikely to come from the game creator, as much as he wishes it were otherwise.
Can you play the same Stardew Valley files across different computers?
If you have a file saved on the cloud and therefore can access your Steam or GOG player on a different computer, then it is possible to play the same file. Otherwise it is not.
Do any systems have cross play for Stardew Valley?
In theory a player on Steam and on GOG.com can crossplay Stardew if the GOG player is in the cross play beta and the Steam player has their settings set to allow cross play. This is in very early beta testing and doesn't have anything to do with the game but is a test run for GOG and Steam to try to make all their games cross compatible.
What are the chances of Stardew Valley becoming crossplatform in the future?
Aside from the earlier mentioned PC Steam & PC GOG.com, it's not likely to happen, though depending on how the development of Haunted Chocolatier goes it's possible that game might be built with hopes of cross platform play in mind in the future.
Other Stardew Valley Articles You May Love
Why Is Stardew Valley Lagging or Crashing? (Coming Soon)
Proud to embrace the locally created moniker of "Corrupt Overlord" from one of the all time great Lords of Waterdeep runs, Shane is one member of the Assorted Meeples crew and will be hard at work creating awesome content for the website. He is a long-time player of board games, one time semi-professional poker player, and tends to run to the quirky or RPG side of things when it comes to playing video games. He loves tabletop roleplaying systems like Dungeons & Dragons, Pathfinder, Werewolf, Fate, and others, and not only has been a player but has run games as DM for years. You can find his other work in publications like Level Skip or Hobby Lark.