Mechs vs. Minions (MVM) is a cooperative programming board game playable by two to four players, who act as mechs in a mission to fight off an army of skillfully marauding minions. But, what exactly does all that mean, and is it any fun?
Mechs vs. Minions is a campaign-based game involving mechs working as a team to fight a horde of minions. Players command their mechs with cards, adding new moves with each turn. Though it can be difficult initially, Mechs vs. Minions is a fun and immersive experience once you get the hang of it.
Curious to learn about Mechs vs. Minions? If so, then you couldn't be in a better place. Read on as I take a closer look at the campaign game's main features, gameplay, pros, and cons.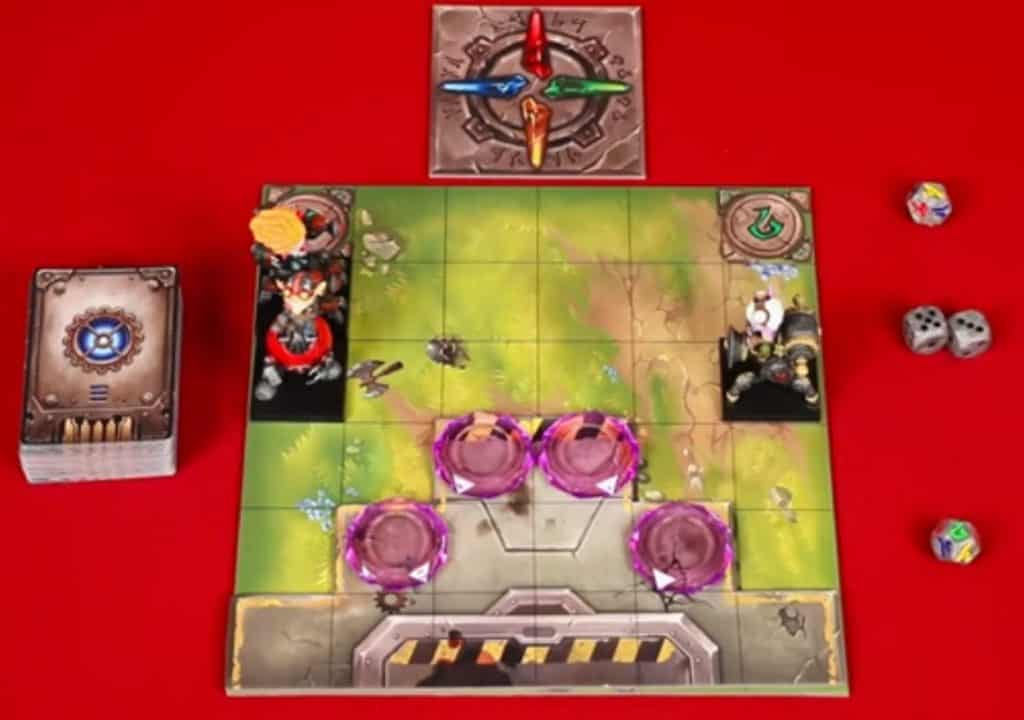 What To Expect in the Box
The first thing you'll notice about Mechs vs. Minions is its impressive packaging. For a massive tabletop board game, MvM doesn't disappoint when it comes to content as it's packed with several in-game components from mech to tens of minions.
MvM comes in a sturdy, aesthetically appealing yet intimidating box that includes the following:
Five game boards
Four command lines (one for every player)
Four mech miniatures (painted)
Damage and ability decks,
A sand timer
Six metal trackers
Bomb like power source
Four dice
Four acrylic shards
100 minion miniatures
One thing that stands out about Mechs vs. Minion is the quality of its components. From the painted mechs to the plastic miniatures, every item is made of quality materials.
This gives the game a unique, luxurious appeal that motivates players to keep playing despite the unpredictable challenges that arise across the different missions.
Overall, the size of the box is befitting of the many components. A smaller box wouldn't fit the top-drawer parts and would almost certainly make it hard to set up the game.
It is also worth noting that every item has a specific storage location in the box, a feature that makes it easy to clean and pack up after a session.
A Brief Overview of Mechs vs. Minions
Mechs vs. Minions stands out due to its attention to detail. With every mission having a unique objective, you and your teammates (1-3) must find ways to navigate past unexpected obstacles– and they are quite a lot!
How It Starts
As expected, the first mission is relatively straightforward as it prepares your team of mechs for the more demanding assignments.
But considering each mission has a unique dossier that details the setup and mission objectives, your team of dedicated mechs shouldn't struggle too much to achieve set goals.
Codenames
Once a mission is completed, you'll receive a codename that guides you on which envelope to open next.
Perhaps even more impressively, each envelope comes with schematic cards, character-specific cards that you can choose to prepare for the incoming mission.
Be warned, though, that you'll also have to pick damage cards that add a much-needed sense of unpredictability to the game.
And while your mech can get severely damaged, you'll be glad to learn that player elimination isn't part of the game. Instead, all players that start the game must either complete the mission or lose and restart as a team.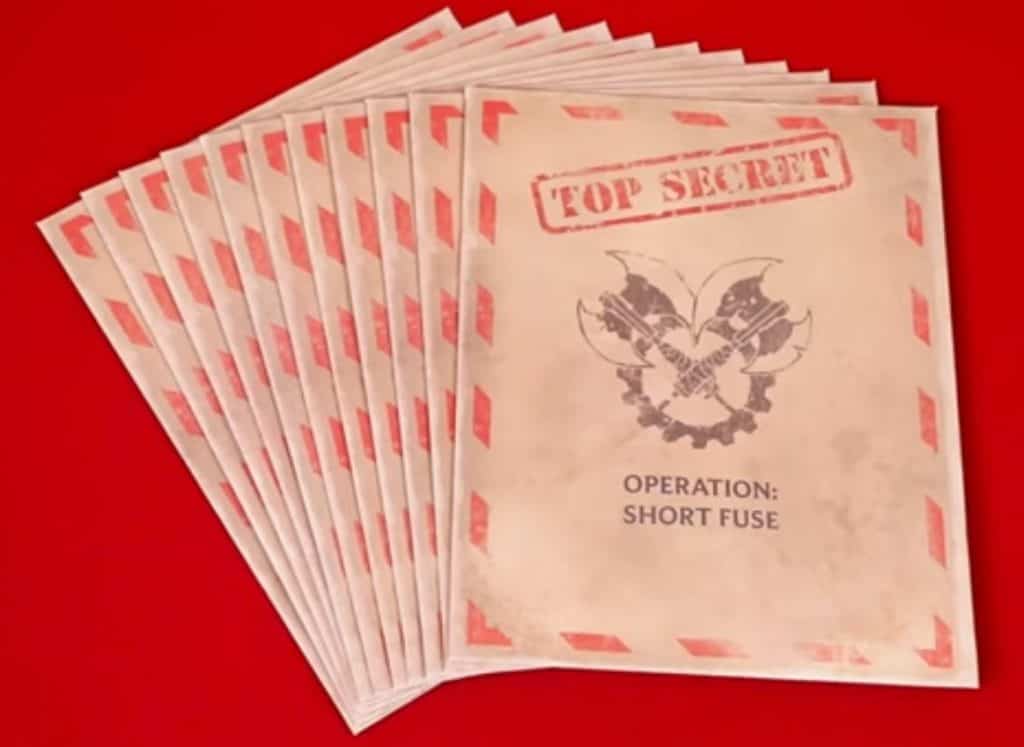 Mechs vs. Minions Gameplay
On paper, Mechs vs. Minions might come off as a complex game, but in reality, it's just a fun but potentially chaotic game that gets tougher as you advance.
Your sole mission is to move the mechs strategically around the board, transport and drop off items, and, of course, overcome obstacles– all while surviving the wrath of unforgiving minions along the way.
And although MvM is a programming board game, you'll be glad to learn its programming aspect is relatively light.
To embark on the campaign, you (and the other players) will draft command cards, placing them in a sequence on your 'command line' as your mechs execute all the actions a step at a time.
MVM's command cards come in four main categories:
Fire
Electric
Computery
Metal
Each of these cards determines whether the mechs move, turn, or attack.
Check out this detailed video for a rundown of the cards and how they all work:
Piling Cards For Extra Power
You'll be glad to learn that piling on cards of the same category (matching symbols) upgrades a mech's powers and its ability to perform the command.
For instance, while a single-speed card will have you move one or two spaces forward, stacking another speed card on top allows you to move two to four spaces instead.
Progressive Missions
It's also worth noting that although set in Runeterra, the League of Legends (LoL) universe, Mechs vs. Minions boasts different gameplay.
MvM has a total of 10 progressive missions. And, as expected of a campaign game, each mission gets harder as the game progresses.
The good news is you'll be able to unlock new powers and access advanced clues as you move to the more advanced levels.
Extended Game Play
On average, each mission should take about 60-90 minutes to complete. Beginners will likely need a lot more time to get used to the rules and various cards.
But once you learn how to manipulate the command line, you'll be well-placed to complete assignments in shorter timelines.
Experience Points
Luckily, one thing to note about minions is they're pretty dumb. However, these tiny figurines aren't to be underestimated as they can prove dangerous when attacking in numbers or if they spawn close to you.
And while the game might be relatively hard to understand at the start, you'll find it a lot more fun and enjoyable once you get to tackle new missions and capitalize on the unique features that come with each draft card.
It even gets better as you can unlock abilities as you progress with the missions.
For instance, players can unlock new abilities after killing 75 minions, which boosts the odds of completing missions before the unforgiving timer runs out.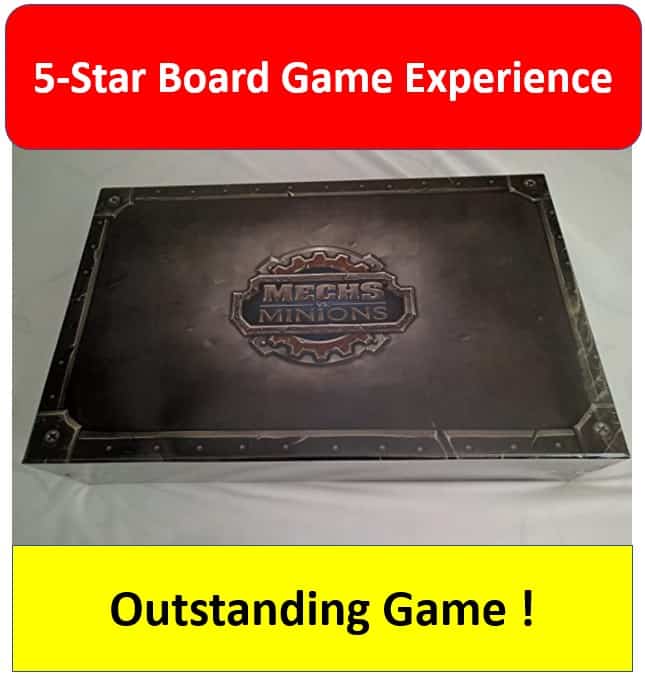 Mechs vs. Minions Pros
Let's go over a few pros of playing a game like Mechs vs. Minions:
High-Quality Packaging
Sure, the unusually large size of the game's packaging might come off as a surprise and a turn-off, especially if you're looking for a mobile board game that you can take along everywhere.
However, even MvMs greatest critic will agree the packaging is to die for!
After opening the box, you'll find perfectly layered tiers that accommodate all of MVM's components. The custom-molded trays are clear and designed to house all game components, including the 100 minion figurines.
Having well-organized storage space is an absolute plus for a tabletop programming game that's big on space. And the MvM box doesn't disappoint in this regard!
Outstanding Production Quality
Mechs Vs. Minion's production quality is second to none, as it features brilliantly produced components that add a luxurious touch to the game.
Everything from the colored mechs to the crusades of minions, the bomb piece, dice, rune coins, and crystal shards are made of quality and highly durable material that guarantee longevity.
Impressively, even the map tiles, damage cards, and schematic cards are brilliantly designed to complement the game's unique League of Legends setup.
Fairly Easy To Learn
Although not the most straightforward programming board game around, Mechs vs. Minions is relatively easy to learn.
The tutorial is a great place to start, as you'll learn some of the basics of the game.
It's also nice that the first mission is fairly easy, a feature that allows new players to get the hang of the gameplay and in-game rules.
And since Mechs vs. Minions is a cooperative campaign game, players are likely to learn more about rules, tricks, and strategy formulation as the game advances. This gives first-time players enough time to understand how the game works.
The Game Serves Its Fair Share of Surprises
Mechs vs. Minions boasts unique gameplay that promises to shake things up a bit if not throw players' strategy into absolute chaos.
While players can implement a variety of strategies to complete projects, minions can also deliver sucker punches through damage cards. This adds a much-needed edge of unpredictability that keeps all players on their toes until the mission is complete.
The fact that each mission comes with its own envelope revealing goals and objectives also adds to the game's intrigue, leaving every player curious about what the future holds.
MvMs unpredictability helps motivate players to complete missions, especially since some levels might prove hard to crack.
In addition, the knowledge that each mission has its own unique rules and that mechs get stronger as the game advances encourage player interest and motivation to complete the campaign.
Suitable for Two to Four Players
Although designed for four players, Mechs vs. Minions can be played by two. The main difference between the two-player and four-player versions is the cards each player gets per turn.
In the four-player version, each member gets a single card per turn, while players get two cards per turn in the two-player version.
MvMs flexibility as a team board game makes it suitable for random gaming. It can also function as a two-player game, effectively eliminating the pressures of assembling a large group.
The four-player version is a lot more challenging as you'll be picking fewer cards per round, meaning mechs will reach full strength a lot slower than the two-player version.
Progressive Missions
Mechs vs. Minions is a programming board game characterized by its progressive missions. Each mission is crucial to the next, and it's exciting that members must complete one stage before progressing.
As mechs continue to plot their strategies to complete missions, the game springs up surprises through damage cards, which adds a bit of chaos and much-needed humor to the game.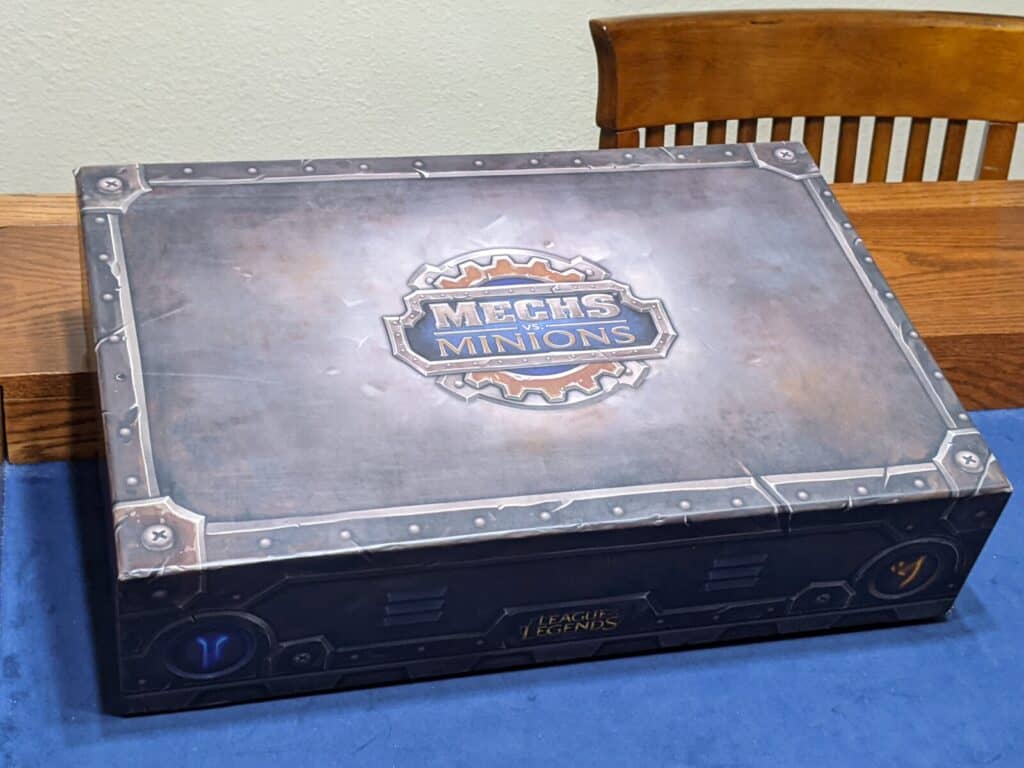 Cons of Mechs vs. Minions
As with any game, there are some downsides to Mechs vs. Minions. So, let's go over a few below:
It Can Be Fairly Complex To Understand
With every mission coming with a unique dossier, coming to grips with the rules and gameplay can prove challenging. Most first-timers complain of difficulty understanding the rules, especially during the first mission.
Even worse, the game expects players to remember some rules for subsequent missions, which can be difficult considering the programming game is full of rules.
And while the glossary booklet can help clear some things up, some feel that the information provided isn't comprehensive enough.
Not the Most Replayable Board Game
Unfortunately, MvM does not have as many missions as programming board game enthusiasts would fancy. As a result, the MvM adventure will come to an end after just ten missions, which is a bummer considering you'll need to master tons of skills before progressing to the last missions.
The good news is you'll pick different cards when replaying missions, which flips the script considerably, effectively eliminating the chances of the game becoming monotonous.
You can also adjust the number of players to make the game enjoyable. For instance, if you are used to playing as a team of four mechs, you can scale down the number to two to alter the game's dynamics.
Not the Most Portable Board Game
Mechs vs. Minions is arguably one of the largest board games around. And while the large packaging is designed to accommodate over 100 minion figurines, mechs, cards, and other components, the unusually bulky design can affect mobility.
The large size means moving MvM around might not be the smartest idea, especially since it's unlikely to fit in most standard-sized bags.
As a result, you might have to contend with playing the programming board game in a central location.
Easier for a Smaller Team of Players To Win
Mechs vs. Minions is a well-structured game with impressive mechanics. However, the game's overall difficulty is questionable, considering a team of two mechs will almost certainly become stronger compared to a team of four.
Therefore, two-player teams are more likely to complete missions on time as players will pick more cards per round than four-player teams that can only select a single card per round.
The Takeaway
Programmable board games are not for everyone, but if you love a combination of strategy, teamwork, and unpredictability, then Mechs vs. Minions might be your cup of tea.
MvM's progressive campaigns not only spice it up but also add a much-needed intrigue.
And while the game might come off as complex and unwelcoming for first-timers, things become a lot more interesting as the mechs get inevitably stronger as the game progresses.
If you don't mind taking up an unpredictable, action-packed adventure in the League of Legends universe, then Mechs vs. Minions might just be your ideal programming board game!

Sources
Other Board Game Articles You May Enjoy
Proud to embrace the locally created moniker of "Corrupt Overlord" from one of the all time great Lords of Waterdeep runs, Shane is one member of the Assorted Meeples crew and will be hard at work creating awesome content for the website. He is a long-time player of board games, one time semi-professional poker player, and tends to run to the quirky or RPG side of things when it comes to playing video games. He loves tabletop roleplaying systems like Dungeons & Dragons, Pathfinder, Werewolf, Fate, and others, and not only has been a player but has run games as DM for years. You can find his other work in publications like Level Skip or Hobby Lark.