The past year and change has been stressful for a lot of us, and of course our timing was excellent as ever when forming a gaming group right before a worldwide pandemic that meant we couldn't meet in person anymore. Board Game Arena was an early discovery in those dark days that let us meet online and play a really impressively wide selection of games even before two of us opened the wallet for premium memberships to unlock the rest of the games.
While we hoped for something that would just be "good enough" until we could meet in person again, it turns out that Board Game Arena went above and beyond our expectations.
In our experience Board Game Arena (BGA) Premium is worth the $24 a year price because of the incredible variety of games, large player base, and user-friendly interface. For many people the free BGA account will still be very valuable but it doesn't hold up to the premium version. Either way, in our experience BGA is the best option for playing free or cheap board games onlien.
You can read on for our full review of Board Game Arena and Board Game Arena or watch the Unqualified Experts below that begins with yet another rock solid opening sketch from our increasingly favorite amateur comedy duo.
Board Game Arena Premium Review: Unqualified Experts on YouTube
What Is Board Game Arena?
Board Game Arena is one of many sites online that have digital versions of favorite board games, and in our experience it is by far and away the best. It's certainly our favorite, anyway. What's interesting here is the community sourcing of experienced coders who help build the code so they can take the board games they love and create a digital version.
This means games can be improved over time (along with interfaces), and we have actually seen this occur on a regular basis. This goes even beyond the site wide improvements and moving to better and more efficient servers, but also individual games being updated, the graphics and user interface improved, and more options are popping up to make the games play even more smoothly.
All really great signs and it goes to show that a lot of care is going into the site to keep it up, keep it improving, and keep the community growing.
A short list of free digital board games on Board Game Arena include:
Agricola
Dice Forge
Chess
Libertalia
Yahtzee
6 nimmit!
Through the Ages
Crazy Farmers
Hearts
Eminent Domain
Kingdom Builder
Aside from the wide selection of games even with a free account, one thing I really love about this digital board game space is that there are excellent resources to help players learn new games.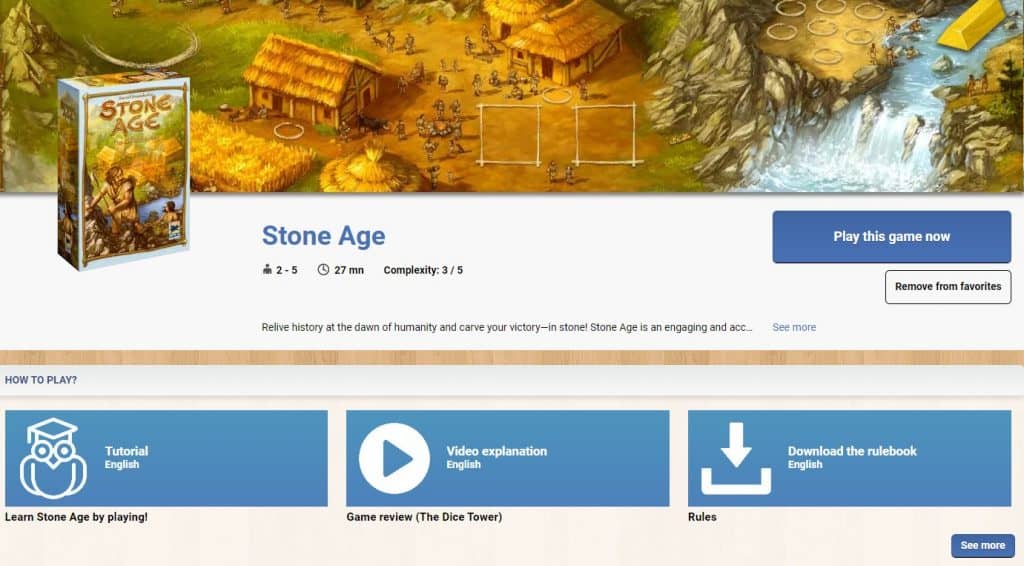 Games have tutorials, video explanations of rules & gameplay, as well as the ability to download a PDF rulebook when available. In addition to this players on the site have the ability to watch games being played so they can watch the movement of a game in real time. This can be a great way to see the mechanics in action.
Especially if you have a dual monitor setup so you can be watching a video explanation or reading the rule book while also watching a game in progress by players who actually know what they are doing.
Good Non-Toxic Gaming Forums
There's also a forum that is free for all players with an account to use. I haven't ventured here much, but moderation seems really solid and there is an actual sense of community here, which is nice to see.
There's a lot of helpful support found here as well as some good threads in the off-topic category that still sometimes veer into gaming and bring up interesting thoughts, opinions, and otherwise change things up a bit.
The basic membership at BGA is free, which is a huge plus.
Our gaming group started with the free before having a couple of us move to premium. We had access to a ton of games and could connect with friends.
Since then they have even created "competitive" and "non-competitive" setups so players can just go and play in casual games if they feel like taking it easy or for those of us with a competitive streak, you can compete competitively with others on BGA to see how you compare with other BGA players worldwide.
You also have the ability to change whether you go into open games, get randomly assigned, or set up games that are only open for your friends. This versatility is excellent and while it can still take a little bit of time to figure out the layout, once you get used to the UI it is very easy to use and interact with.
Board Game Arena Premium – Is It Worth It?
Truth be told, I play Stone Age the most and it's probably not even close. So even if I only had a freebie account, I would probably be quite happy with Stone Age, Dice Forge, and a variety of other new games to keep trying out. That being said, take a quick look at this list of digital board games that can be found on Board Game Arena but are only available to play with a Premium Membership.
Short List of Games that Are Unlocked by Board Game Arena Premium:
Sushi Go
Carcassonne
Potion Explosion
7 Wonders & 7 Wonders Duel
Terra Mystica
Pandemic
Puerto Rico
Takenoko
That's a lot of really exceptional (and popular) board games that suddenly become available, and there are more board games marked premium than not. Considering there are many, many dozens of games open to all with a basic BGA account, and it's safe to say that the full array of games is very impressive.
You won't have any excuse for being bored!
Premium Members Can Invite Non-Premium Members to Games
Board Game Arena also has a really great feature that we love, and that we have taken advantage of, is that a player with a premium membership can invite their friends to play a premium game even if they don't purchase a premium membership. This is an outstanding feature and makes sure for a really small investment that even a large group of friends can enjoy some of the best games on there.
Many sites would force every single player to buy the premium membership so this was a welcome and pleasant surprise.
---
Important Note: If two of you live in the same location and thus have the same IP address, both of you will need to purchase a Premium Membership. While this was a bit annoying at first glance, it makes a lot of sense to deal with fraud and honestly with how much they offer (and how much of a mental life-saver this was when the pandemic broke out) $24 a year really is a great deal so it wasn't a big deal to us, but it is important to be aware of if a bunch of you are in the same apartment or house.
---
Board Game Arena Premium Vs. Board Game Arena Basic
So how do the two compare? We go into even more depth in the actual video review of Board Game Arena but this chart gives a great quick look at what you get with the really good basic account or what the premium membership has to offer.
| | Board Game Arena Basic | Board Game Arena Premium |
| --- | --- | --- |
| Number of Games | Approximately 300 total games | 365+ board games |
| Game Modes Available | 3 | 3 |
| Forum Access | Yes | Yes |
| Hotseat Mode | No | Yes |
| Ad Screen When Game Starts | Yes | No – ads are skipped and you go straight to game |
| Video or Voice Chat | No | Yes |
| Choose Favorite Color | No | Yes |
| Detailed Gaming Stats | No | Yes |
| Set Up Tournaments | No | Yes |
| Access to Beta Games | Yes – unless marked premium | Yes access to all Beta games |
| Cost | FREE | $24 a year ($2/month charged yearly) |
Chart comparing Board Game Arena free version to Board Game Arena Premium.
Is Board Game Area Free Account Worth It?
Absolutely. We actually played quite a few free games prior to anyone picking up a premium account, and we had plenty of games, plenty of options, and plenty of decisions to make for gameday. There ae around 300 games in the free version including some truly great ones, as well as many beloved classics.
Most people will have absolutely no problem finding plenty of entertainment.
That said, there's no denying the 65+ premium games are often the cream of the crop. These are games that are proven, popular, and have huge followings for a reason. Some of our absolute favorites are behind the premium curtain and getting access to all of those is the main crux going premium.
We believe it is the way to go if you're going to have a lot of gaming, or even just a moderate amount. However, if you are on a budget there is plenty of fun to be had with even the basic membership.
In Conclusion
We are huge fans of Board Game Arena. Whether you decide to stay with the free version or buy a premium membership, it's a good way to round out your digital gaming options. For many of us, it has become the go-to when we need a little board game action and don't have the group over.
Other Gaming Articles You May Enjoy
Please Consider Supporting Us!
Subscribe to our YouTube Channel
Proud to embrace the locally created moniker of "Corrupt Overlord" from one of the all time great Lords of Waterdeep runs, Shane is one member of the Assorted Meeples crew and will be hard at work creating awesome content for the website. He is a long-time player of board games, one time semi-professional poker player, and tends to run to the quirky or RPG side of things when it comes to playing video games. He loves tabletop roleplaying systems like Dungeons & Dragons, Pathfinder, Werewolf, Fate, and others, and not only has been a player but has run games as DM for years. You can find his other work in publications like Level Skip or Hobby Lark.