There are some games you play every so often, and there are some games you just fall in love with and come back to again and again. Even if 7 Wonders wasn't the absolute favorite game of our neighbors (Hi Andy – friendly wave), this is one of our absolute favorite games among the Meeples. It's actually Hall of Fame level along with Settlers of Catan, Lords of Waterdeep, and Stone Age.
So it seems only fitting that this game should make its way to Unqualified Experts sooner rather than later.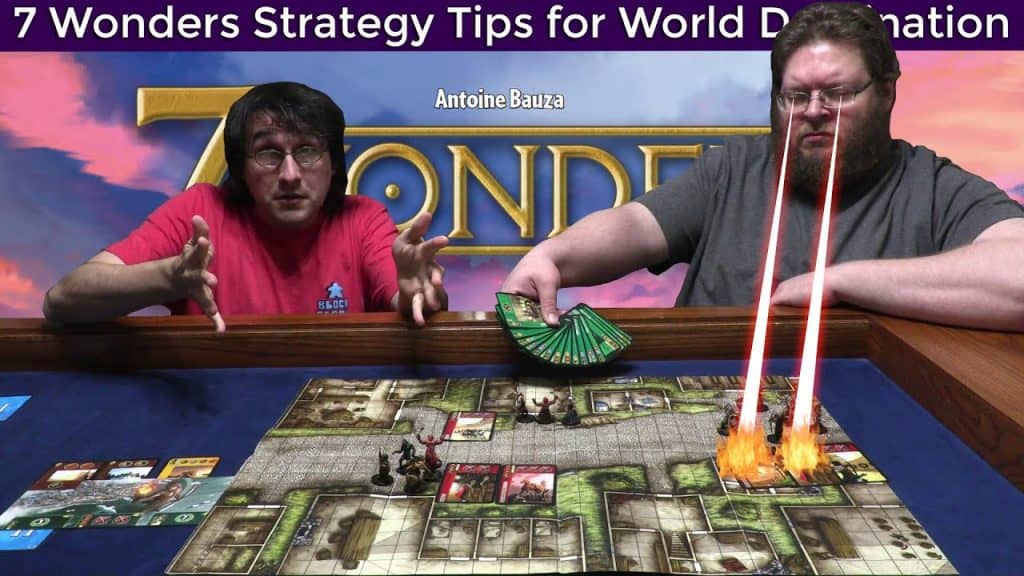 Become an Ancient Empire to be Feared!
The games play so differently from one run to another, and that's part of what we really love about this card drafting game. Are you playing A side? Are you playing B side? Player's choice? Which civilization are you? What's the other side of the table doing? What does your starting hand look like versus theirs?
It's such a great game and having a strong understanding of how various mechanics of the game work as well as how to adapt to the many variations of the game make all the difference in whether you are a player to be feared or one who struggles to make their kingdom known.
This video covers major strategies and how to execute them, including how to readjust mid-game when you initial strategies are clearly not setting you up for late game success.
Just a short sample of 7 Wonders strategy tips this video goes over include:
How to see what your neighbors are planning
Building early with the mid to late game in mind
How to create the science machine…or stop others in their tracks
Understanding the right amount of resources to draft
Dodging the money trap
Dodging the military trap
The science-military relationship
What makes for the perfect Hybrid Strategy?
Want to improve your 7 Wonders strategy? This video will show you how!
This video goes in-depth on the strategies that cause the entire table to yell "Kill Shane and Braden!" before a single card is drawn. Sometimes they are successful. Many times they are not.
This is a fantastic game and there will be many more playthroughs of this great card drafting board game in the future.
Please Consider Supporting Us!
Subscribe to our YouTube Channel
More Board Game Articles We Love
Proud to embrace the locally created moniker of "Corrupt Overlord" from one of the all time great Lords of Waterdeep runs, Shane is one member of the Assorted Meeples crew and will be hard at work creating awesome content for the website. He is a long-time player of board games, one time semi-professional poker player, and tends to run to the quirky or RPG side of things when it comes to playing video games. He loves tabletop roleplaying systems like Dungeons & Dragons, Pathfinder, Werewolf, Fate, and others, and not only has been a player but has run games as DM for years. You can find his other work in publications like Level Skip or Hobby Lark.