Well considering how many hundreds (potentially thousands at this point) of time half of the Meeples have spent playing Stardew Valley, and that's even before pointing out it's so popular among our Patrons at Patreon that we have an entire Discord channel on it separate from the Video Games category.
So with nearly 2,000 hours of total playing time between these two players, they have a lot of opinions and thoughts about Stardew Valley, and plenty of advice to share with beginners. Take a look at the video and we hope you enjoy this guest episode of Unqualified Experts with Phil aka Wrong Way.
This video is geared towards beginner players in Stardew Valley and can help you not only get the most out of your early farms but create the most enjoyable experience possible for the likely many, many hours of Stardew Valley ahead in your near future.
Stardew Valley Beginner's Guide: Stardew Tips for Beginners
In many ways this video was going to be an inevitability with how much Stardew is a part of the community. We hope you enjoy it, and if you can never get enough of Stardew Valley information well we got you covered on that one…
We Love Stardew Valley Here
We may have answered some of the most common questions that come up about Stardew Valley one or two or a dozen times in previous blog posts 🙂 If you're looking to gain your footing for the first time in the best farming RPG sim ever or want to just make your game a little sharper and more refined, we've got all the information you need down here.
Can Your Animals Die in Stardew Valley?
This is an interesting one because for a long time many people didn't believe this could happen. And doing this by accident is really, really hard, but Shane managed to do it on his first run through, which is pretty impressive.
The truth is that your livestock animals can die in Stardew Valley, but it takes a very specific sequence of events to make this happen. If you want to know more you can check out our in-depth guide on Can Your Animals Die in Stardew Valley?
Or you can check out this hilarious video from Dangerously Funny with his own twisted sense of humor takes on this question and actually trying to make it happen.
DF's Video on Stardew Valley Livestock Getting Eaten by Predators
Can My Pets Die in Stardew Valley?
Pets are immune to the dangers that farm animals face if you leave them outside. Fortunately for those of us who are forgetful, rest easy knowing whether you went with a cat or dog, your pets can not die in Stardew Valley.
That is just reserved for unfortunate farm animals who get locked out of the barn or coop one night too many.
Source: Can My Pets Die in Stardew Valley?
Where Can You Find Every Stardrop Fruit in Stardew Valley?
Ah, energy. The constant bane of every farmer in Stardew valley, especially in year one. Upgrading tools and leveling up skills can help make up the early gap. The energy used hoeing out 9 spaces with a basic farming hoe at level 0 different is way higher than the energy spent hoeing out 9 spaces with a silver hoe at level 6 farming.
That said, stardrop fruit is THE answer to finding more energy for your day to day activities in Stardew Valley as each of these precious magical fruits adds pear
We actually do a deep dive of this topic and if you want detailed step by step instructions for how to find every stardrop fruit in Stardew Valley then check out that article where we provide pictures, detailed information, and a full guide on where to find each one and how to win/earn/get it.
Because some of those…they take some serious effort!
Cat or Dog Stardew Valley
Ah, even a peaceful relaxing game like Stardew Valley couldn't escape the age old question of cat vs dog. Cat people have their obvious opinions. Dog people have their obvious opinions. But does the choice make a difference in the actual gameplay of the game?
Most players would say no. And they'd be right most of the time in theory. Shane vehemently disagrees in the hilarious chaotic way that only the Corrupt Overlord could as he contemplates the question of cat or dog in Stardew Valley.
Complete Stardew Valley Guide to Chickens
Chickens are cool. And there are a surprising number of secret chickens, special chickens, or surprise animals that can also share the coop with all your chickens. This was enough of a topic that we felt like we needed an entire guide about it.
Turns out some of our Stardew Valley fans with hundreds of hours in the game didn't know about some of the specialty chickens that were available.
Learn all about chickens in Stardew Valley in that guide and have all your questions answered!
Stardew Valley Fruit Tree Guide
Ah the fruit trees. So beautiful. So great in an orchard. So unbelievably annoying for so many reasons.
Growing these fruit trees ain't easy. At least not compared to the other crops and trees that are available throughout the game. These are necessary if you want the full variety of jams and wine available – not to mention finishing the community center or getting the completionism badges.
Plus they're very decorative, even in seasons they're not bearing fruit.
If you want to know all there is to know about Stardew Valley fruit trees, that's your guide!
How to Farm Solar Essence in Stardew Valley
There's no denying that the solar essence is much harder to farm in large numbers than void essence. However, there are plenty of ways to reliably build up a supply of these uncommon loot drops.
Shane's complete guide to solar essence in Stardew Valley covers everything you need to know to make sure you never run out of these important crafting ingredients again.
Stardew Valley Fence Guide
Fences come in four different forms in Stardew Valley, and it's pretty amazing how much the preferences vary. These can be very useful, especially in customizing farms, but yes, most of them do break down over time.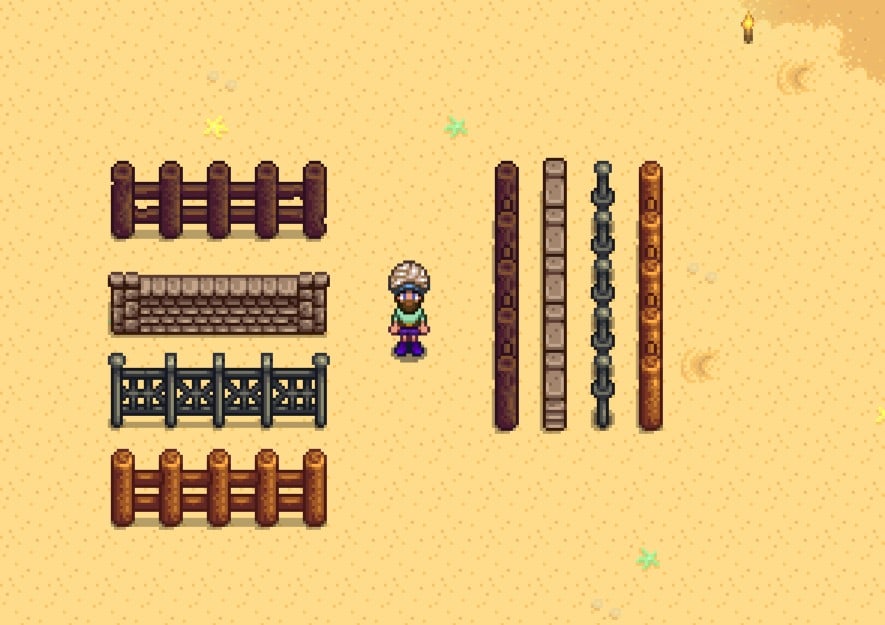 To learn everything there is to know about fences in Stardew Valley check out that article and let us know which ones you prefer.
Can You Be Gay in Stardew Valley?
Representation matters, and Stardew Valley is many things, but a political game is not one of them. However, ConcernedApe has stated he wanted a game where a player could choose their life, choose their ideal farm, and his solution was simple: players could marry any of the available marriage candidates.
This was not true for the original Harvest Moon games that originally inspired Eric Barone to create Stardew Valley. But in SV males can marry males or females, and females can marry males or females
Can you be gay in Stardew Valley? The answer is yes, a player of any gender can marry any romantic partner of any gender in the game. That article takes a basic overview of the question and some look at the good on this topic with SV versus the things we'd call problematic now, but for two good in-depth looks from an LBGTQ gamer check out this article or this follow up article.
21 Best Games Like Stardew Valley
There are a ton of amazing games out there in the farm/life sim genre that don't get the attention or love they deserve. Shane's list has an incredible array of games. Some well known, some most of us never heard of.
Those give you a large list of games to add the library that will feed that need if you love Stardew Valley endlessly but sometimes want a change of pace or a different gaming style this is the article that will change your gaming life (and after multiple updates there will be more than 21 recommendations).
Best Games Like Stardew Valley
In Conclusion
Whew – there's plenty of incredible Stardew Valley content here, and it kind of brings home the fact that this is a game that has some serious roots. It's been around for 7 years and is more popular worldwide than ever.
What started out as an homage to Harvest Moon has grown well beyond that into one of the best indie games ever made, and one that respawned the entire genre.
This was a fun episode to film and we hope you like this and many others moving into the future. Check out some of our other stuff and visit us on YouTube, Twitter, or Facebook to tell us your best Stardew Valley stories.
Proud to embrace the locally created moniker of "Corrupt Overlord" from one of the all time great Lords of Waterdeep runs, Shane is one member of the Assorted Meeples crew and will be hard at work creating awesome content for the website. He is a long-time player of board games, one time semi-professional poker player, and tends to run to the quirky or RPG side of things when it comes to playing video games. He loves tabletop roleplaying systems like Dungeons & Dragons, Pathfinder, Werewolf, Fate, and others, and not only has been a player but has run games as DM for years. You can find his other work in publications like Level Skip or Hobby Lark.