Stardew Valley is one of those games that just keeps on giving, and its community is one that keeps on giving back. Not only has Stardew Valley sold over 20 million copies but many of its tech-savvy fans have created literally hundreds of mods that can be added to the game to add new characters, events, crops, tools, quests, map sections, and more!
In other words, it's a game so thoroughly loved that it can both sell tens of millions of copies and still inspire the creation of fan-inspired content to make even more for Stardew players to do. In fact, one modder has spent all their free time for 3+ years creating a mod that actively grows the world of Stardew Valley, nearly doubling the content of the game, with the creator's blessing.
Few games are this loved, and thanks to mods, offer this many potential different options to keep playing and having new experiences in this wonderful game after even hundreds of hours of play. There are many dozens of mods out there, but these 11 are the best of the best, along with a list of honorable mentions that are definitely worth looking at.
Let's dive in!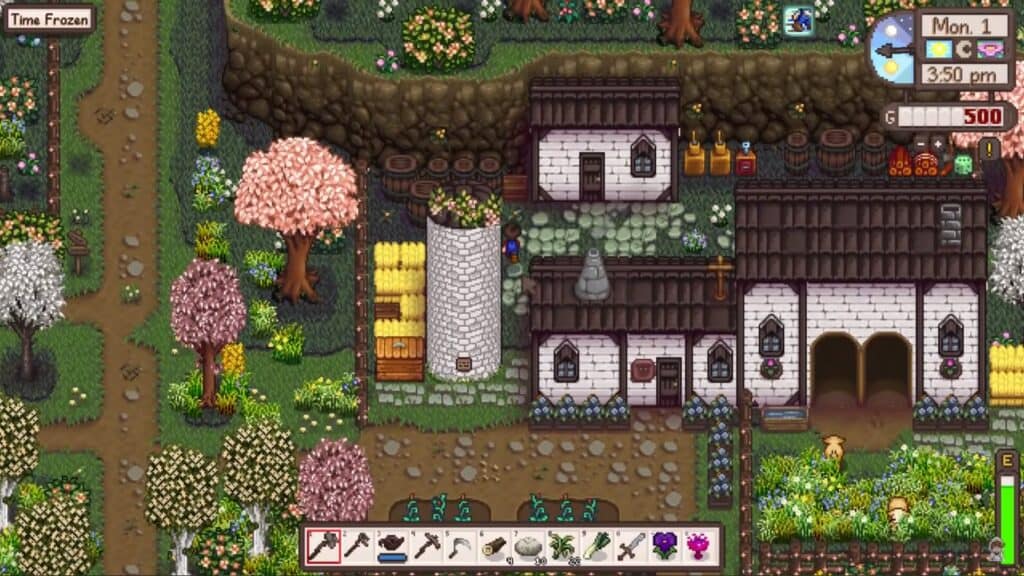 #1: Stardew Valley Expanded Mod by FlashShifter
Was there any doubt about what the top mod would be? The Stardew Valley Expanded Mod is the most popular out there, and has added dozens to hundreds of hours of additional gameplay. This was an impressive mod when it came out, but it keeps getting larger and larger – adding more incredible things to explore, characters to meet, and more.
This is a mod that adds an incredible amount of content and most importantly, it does a great job of fitting into the themes of Stardew Valley. New art, locations, NPCs, and events all work to capture the feel of the original game so they add to it rather than clash with it.
So what does the Stardew Valley Expanded (SVE) mod add? Keeping in mind this list is likely to grow even more in the future:
27 New NPCs (there are 28 in the base game)
50 New Locations
260 New Character Events
27 New Fish
Multiple changes, upgrades, improvements to "vanilla areas"
Two new farm maps
A new world map of the expanded world
Additional new music
Additional new quests and quest lines
New crops
New cooking recipes
New festivals
New graphics and more!
There's a reason that the SVE mod for Stardew Valley is one of the most famous, and I saw when this was first released, and watching the stunning amount of work that has continued to go into the mod to keep upgrading it, it's impressive.
Although it is very important to note that this radically changes parts of the original game, so I do strongly recommend playing the original game a couple times, unlock Ginger Island, try out those other farm types you're interested in, and do what you want with the original game before adding this one in.
But once you're ready for something new, the Expanded Mod for Stardew Valley can open up hundreds of hours of new gameplay.
IMPORTANT: This mod does require multiple other support mods to work properly, so make sure to carefully read all the instructions to make sure this gets appropriately added.
Find the Stardew Valley Expanded Mod Here
SharkyGames Reviewing Stardew Valley Expanded on YouTube
#2: Tractor Mod by Pathoschild
There are many who say the tractor mod was the best mod ever made for the base game, and it's hard to argue that the tractor mod is just amazing. It's fast, it's extremely functional, and you can equip a tool and break rocks, cut grass, chop wood, hoe ground, fertilize the ground, plant crops, and water the crops in big chunks all by equipping the tool and driving the fast tractor around the farm.
This is an excellent tool that fits in, makes sense, and that you still need to pay Robin to build the building for. It drastically cuts down on the time of planting, fertilizing, growing crops and is especially great for players who have been through the full game a few times and want to start a new file but would prefer to do other things than the tedious part of tending crops.
Or they just want to speed it up, which is exactly what this mod allows you to do.
The cost of a tractor from this mod?
150,000 gold
20 Iron Bars
5 Iridium Bars
5 Batteries
Worth every penny, and this is a mod that is simple to install and gives huge quality of life improvements for players…especially if all that's left to do is buying multi-million gold improvements.
Find the Stardew Valley Tractor Mod Here
#3: Automate Mod by Pathoschild
The Automate Mod creates pathways from raw items in a chest to machines they are attached to. The completed items are then put into the chest. Multiple machines in a line can be attached to that one chest and the processes all work together. So quartz in a crystalarium will go into the wooden chest that will then go with coal into a furnace to make refined quartz.
This works with any sequence as long as the chest has all the necessary raw ingredients and all the machines touch in a single line. This can be an extremely useful mod that makes life simpler, so you can run around and make the most of each day while the furnaces continue going and the crab pots get harvested and re-filled with bait on a consistent basis without your having to be there all the time.
It's a quality of life mod that makes a big difference in the the mid-game and late game, and I admit I love this mod as I always forget to collect from crab pots and refill them until I'm running by with a full inventory and no bait, so this takes care of that, and keeping hundreds of ores in the smelters without my constant supervision makes my Blacksmith upgrade much more valuable since I come back after three days to dozens and dozens of metal bars as opposed to hundreds of unprocessed ores.
#4: Earthy Recolour by DaisyNiko
There are multiple Recolor mods for changing up the colors and look of the game, and the Earthly Recolour by DaisyNiko is a personal favorite. This does a good job of adding a different type of coloring that brings a different feel and graphical look that makes it feel fresh.
There are others which deserve mention (and I list them below) but most players will find between various extremes that the Earthy Recolour just hits that sweet spot while fitting in and arguably improving the overall aesthetic of the game for many players.
Other good options for Stardew Recolour mods include:
Starblue Valley Recolor Mod
Vibrant Pastoral Recolor Mod
Nari's Rusty Recolor Mod
Find the Earthy Recolour Mod Here
#5: NPC Map Locations Mod by Bouhm and Pathoschild
Oh man is this mod a freaking lifesaver. This mod makes it so every time you open a map, you see a small face of each NPC and where they are at on that world map. This lets you quickly track down the characters in the game that you are trying to grab to finish that commission, give a gift, or cut them off before they get home and lock you out of their lives until the next day.
Even better? This mod continues to work with new characters added via individual mod or from the Stardew Valley Expanded Mod, meaning it continues to be extra useful when there are an extra 10, 15, or 20 or more extra characters added to your active game via mods.
Find the NPC Map Locations Mod Here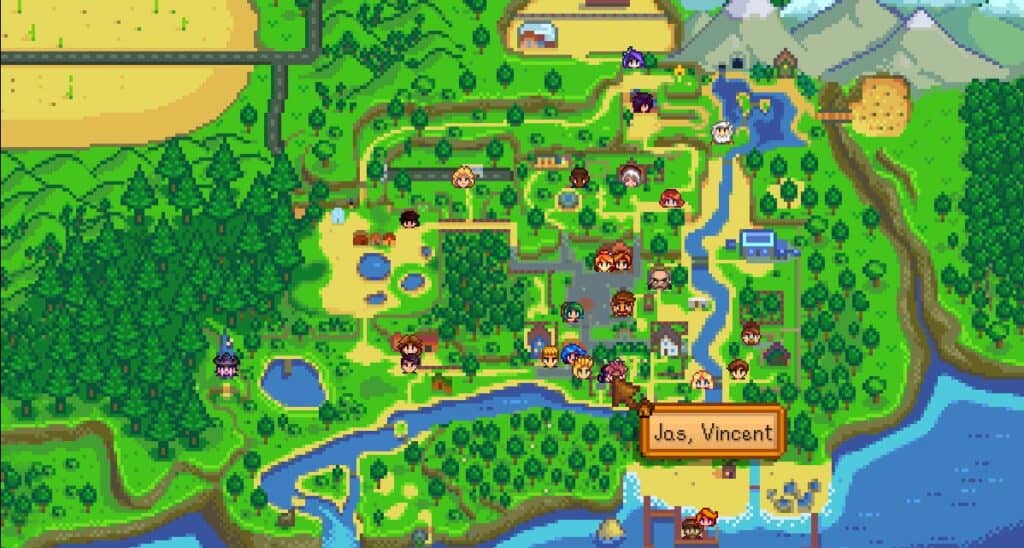 #6: Visible Fish Mod by Shekurika
Seeing fish in the water is great because you know there's more than trash and driftwood in a given area, and the fish shown give an idea of the types of fish you might find when casting in an area. That is a nice addition from the mod, and one that makes it much easier to pick a good spot to fish for results.
Considering fishing is one of the skills that more players find frustrating, this is a great mod that shows you where the fish are, what kinds are around, and it helps you track down those hard to find fish while trying to fill out a particular job, bundle, or chasing that pesky completionist badge.
Find the Visible Fish Mod Here
#7: Canon-Friendly Dialogue Expansion Mod by Ben and ParadigmNomad
This does require the prerequisite of "Content Patcher," but it's well worth it. One of the common "complaints" of great games is that you wish there was even more content because you want to dive even deeper into the world.
The dialogue expansion mod for Stardew Valley is great because it doesn't just randomly make up dialogue that has nothing to do with the characters or make it pointless small talk. Based on future heart events, letters & actions of characters, and other in-game bits of information the dialogues of characters reflect hobbies, interests, beliefs, and base their conversation around those character traits.
This makes sure the dialogue feels authentic and from each actual character, helping the world come to life while adding a much larger variety of conversations to have with characters in the game.
Find the Canon-Friendly Dialogue Mod Here
#8: Alternative Bundles Mod by Quirinea
There are multiple mods for changing up bundles, but most of them make the new bundles extremely hard, thus making the Community Center extremely hard to complete. And this is fine if that's the challenge is what you're looking for.
This bundle does a much better job of keeping the theme very much the same, but it truly changes up what you need to get without making it drastically more difficult. This is a nice change of pace that can be a great way to enjoy the game again by making things different or interesting without making it unnecessarily difficult.
Find the Alternative Bundles Mod Here
#9: Winter Grass Mod by CatCattyCat
An odd mod, but I really like it. Grass stays growing in the winter, creating a beautiful aesthetic with white snow-covered grasses staying on the farm, and still allowing you to harvest for hay for your animals in the buildings.
I absolutely love the aesthetic of this mod and as someone who tends to buy multiple silos – I like having the grass around winter to harvest for hay, as well. It's a simple mod and a small detail, but a win-win as a modded edition to Stardew Valley, IMO.
Find the Winter Grass Mod Here

#10: UI Info Suite Mod by Cdaragorn
Personally I don't find this as big a deal, but sometimes you just forget about something or want to see luck, tomorrow's weather, or other handy information at a glance. The UI Info Suite adds some little graphics to go with the time and gold numbers in the upper righthand side. This includes a symbol for when the traveling cart is around (admittedly very useful), or one of many other symbols.
The options for these appear on the UI settings screen so you can toggle on the ones that you want to be available and toggle off those that just don't matter all that much to you.
Being able to adjust the information to have what you want up in the upper righthand corner, and the more I think about how many times I miss the Traveling Cart, the more I realize maybe this is a Stardew Valley mod I should add to my rotation.
Find the Better UI Info Suite Mod Here
#11: Better Junimos Mod by Hawkfalcon and Ceruleandeep
The Junimo Hut is a nice late game upgrade, but wouldn't it be nicer if they just did more? I agree. While the randomness and lack of consistency of the elf helpers in the original Harvest Moon series of games left something to be desired, they could do multiple things. I kind of hoped the Junimos would blend better efficiency with that added level of skill, and this mod helps that dream become a reality.
This outstanding mod allows Junimos to plant crops, fertilize tilled soil, water crops, clear dead crops, and more. Small mini-quests allow you to make the Junimos happy, unlocking even more work options, and you can even set them to ignore flowers so they don't ruin your honey production!
A great mod that makes a good late game addition to your farm and makes it even better.
Find the Better Junimos Mod here
Honorable Mentions for Best Stardew Valley Mods
Skull Cavern Elevator Mod
Gift Taste Helper Mod
Stardew Valley Anime Mod
Find Out Mod
Ellie's Ideal Greenhouse Mod
Seasonal Outfits Mod
Display Grid Mod
Better Ranching Mod
Climates of Ferngill Mod
Magic Mod
Destroy Bushes
A whole array of Custom Farm Mods
All of these mods have something huge to offer, and personal preference can go a long way towards helping you to find the mod or mods that breathe fresh life into an already beloved game.
There's no shortage of great Stardew Valley mods out there, and using your personal preference, experience level with the game, and just gut instinct will go a long way to finding the perfect combination of mods that breathe new life into an already beloved game for you.
In Conclusion
There's a lot to love about Stardew Valley whether this is your first playthrough or you have a thousand hours under your belt and are looking for a little more, the mods here give new looks, new skills, new areas – it's a community so in love with an amazing game that even as it creeps on a decade in age plenty of dedicated fans continue to develop new content to add to a game they all love so much.
If you've put in your hundreds or even thousands of hours on the various farms of Stardew Valley, take a look at what modded Stardew Valley has to offer for an experience that is truly next level.
Other Stardew Valley Articles of Interest
Proud to embrace the locally created moniker of "Corrupt Overlord" from one of the all time great Lords of Waterdeep runs, Shane is one member of the Assorted Meeples crew and will be hard at work creating awesome content for the website. He is a long-time player of board games, one time semi-professional poker player, and tends to run to the quirky or RPG side of things when it comes to playing video games. He loves tabletop roleplaying systems like Dungeons & Dragons, Pathfinder, Werewolf, Fate, and others, and not only has been a player but has run games as DM for years. You can find his other work in publications like Level Skip or Hobby Lark.