There's no denying that Breath of the Wild (BOTW) is one of the most interesting additions to The Legend of Zelda franchise. Breath of the Wild came out on Nintendo Switch and was one of the big selling points to Nintendo's portable console. After all, what's a new Nintendo console without a new Zelda game?
Breath of the Wild is an incredibly popular game. While it's arguable that no single game is worth buying a $300 console for, if you were considering buying a Switch then BOTW is a good enough Zelda game, and a unique enough experience, to be a strong reason to tip the decision to purchasing a Switch, especially if you were already considering it.
Breath of the Wild is one of the most interesting games released in the last decade and creates an experience that has made it one of the most popular games released on the Switch and one of Nintendo's home run hits of the past decade.
So what might make Breath of the Wild good enough to buy a Switch?
Read on to find out what many of our experienced gamer friends have to say!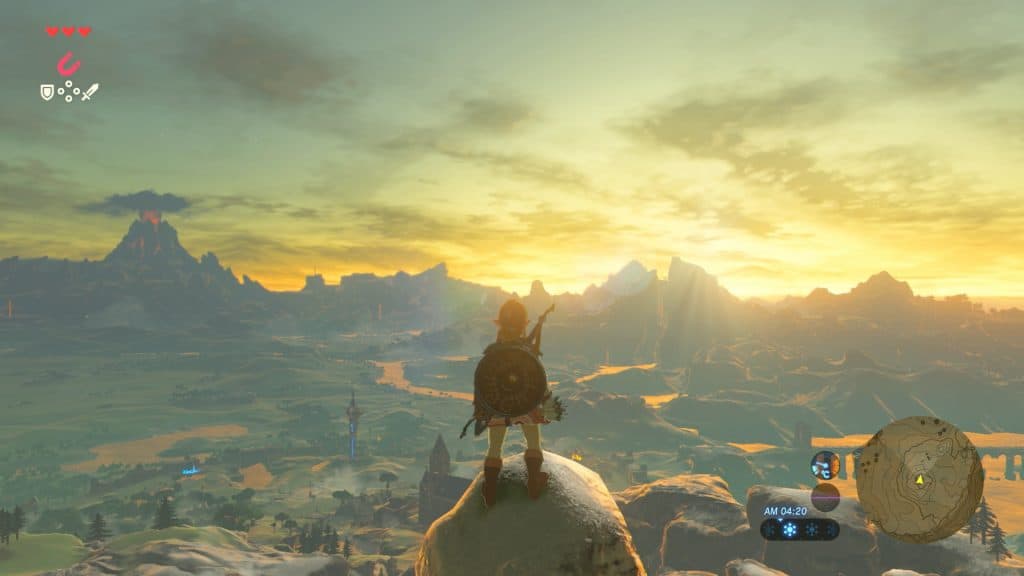 Is Breath of the Wild Better on the Switch?
Generally your choices when playing Breath of the Wild (BOTW) are going to be playing on the Wii, the Switch, or the Switch Lite. Since the Wii isn't known for having the most heavy duty hardware for resource-heavy games, it's natural to wonder if playing Breath of the Wild on the Wii is as good as playing it on the Switch.
The short answer is that Breath of the Wild works well on all these Nintendo platforms they're designed for. While I've spoken to a few gamers who say they believe the experience is better on a Switch, that could also be because they are simply bigger fans of the Switch than the Wii. Let's be honest: all us gamers have our biases.
The Switch can render the world at a higher rate, and the environmental sounds are simply better because the Switch has better hardware than the Wii. So while the gaming experience should be good either way, it's hard to argue with the idea that the Switch just brings something more.
However, I think it is very telling that I have yet to run into a player who adamantly believed the Wii version was better.
Is It Worth Getting a Switch in 2022 and Beyond?
There were concerns starting all the way back in 2020 whether or not it was worth buying a Nintendo Switch at all. If you already have Breath of the Wild on Wii and are fully satisfied with the experience then there might not be a good reason for going out of your way to buy a Switch, especially since that would mean
It's like those of us who lived through turning CDs into MP3s and VHS to DVD to Blu-Ray, forget it I don't need a movie collection anymore. However, Breath of the Wild is a great reason for taking a serious look at the Switch and when you add in the unique experiences that playing Mario Kart on the Switch brings or Rune Factory 5.
In other words, between getting the optimal experience with certain Nintendo games, and having access to games that don't come out on other platform (I have a lot of Stardew Valley fans among gamer friends who would love to try RF5 but don't have a Switch) so even if you're not sure that buying a Switch for Breath of the Wild alone is worth it, that game can be part of a small package of games that does make the purchase of this portable gaming console worth it.
Not to mention the fact that we know Breath of the Wild 2 is in development and will also be released on the Switch in the near future.
So is Breath of the Wild worth buying a Switch for? For die-hard Zelda fans or die-hard RPG fans I'd say yes – or it should at least be the deciding vote if you're on the fence and have other games you would use a Switch with. It's a great game that has been so popular because Breath of the Wild managed to create an amazingly good game for both Zelda fans and for non-Zelda fans, as well.
It's also generally safe to assume that there will probably be more Switch games in the future that you will want to play.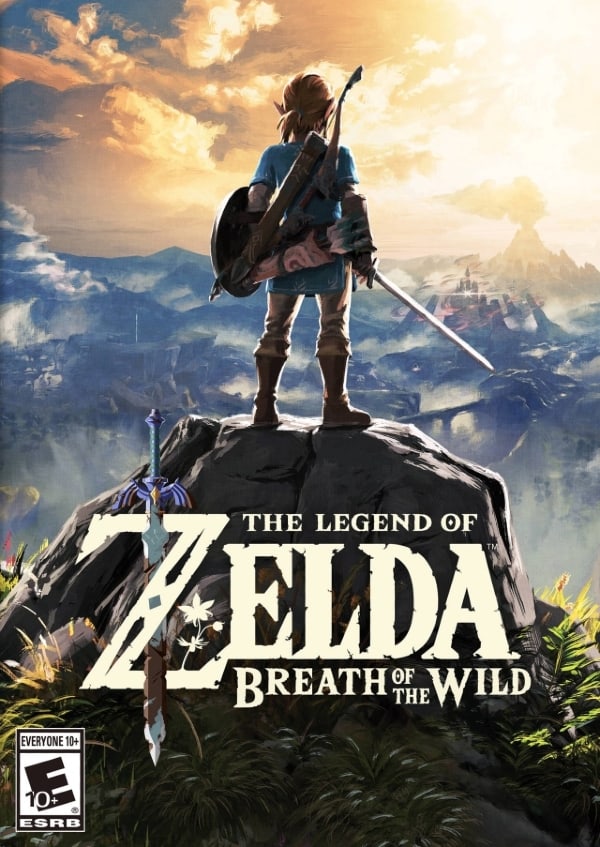 Is Breath of the Wild Good for Non-Zelda Fans?
One of the major reasons that Breath of the Wild has been seen as a major selling point for the Nintendo Switch is that the game really sticks out as being one that is loved by many Zelda fans but it has also played very well for many gamers who have loved the game and weren't necessarily big Zelda fans before this.
It's a game with a wide enough appeal that it really creates an experience for every type of player who might like a game in this genre. Add in the expansion pass and DLC and you're looking at an incredible number of hours that can give a truly immersive gaming experience.
Breath of the Wild vs Skyrim
"Is Breath of the Wild comparable to Skyrim?" is a question that gets asked a lot and it's easy to see why. Both games have reputations for a massive fantasy world open to exploration. Both have hidden locations dotting their sprawling worlds.
BOTW and Skyrim are also both fantasy adventure games that come as the most recent entries to famous and incredibly popular series with Breath of the Wild being one of the most ambitious Legend of Zelda games ever made and Skyrim still going strong as the most popular release from the Elder Scrolls series, still going strong after over a decade.
While both would be technically considered fantasy RPGs with expansive worlds to explore, that is where the similarities end between the two. They are both fantastic games, but each intends to deliver a very different experience.
As Trident suggested earlier in her thoughts, and confirmed with other gamers I've spoken with, both gaming experiences are great although each offers a very, VERY different gaming experience.
Check Amazon.com for Up to Date Pricing on Breath of the Wild on Switch
First Hand Breath of the Wild Opinions from Our Patreon Gamers
Fortunately for you, dear readers, aside from looking at forums or asking questions online, we also have a large group of life-long gamer friends, Patrons, and gaming partners who all have played Breath of the Wild extensively, thought about it, or otherwise made decisions all focusing on the Switch.
So we asked for their opinions on whether or not Breath of the Wild was worth buying a Nintendo Switch for.
The answers were varied, gave great insight from very different gamers with a variety of opinions, and here's what they had to say about Breath of the Wild, and in their own words.
We'll start with Trident who has played the game on the Wii U and the Switch and has thoughts on both:
So, my first experience with BotW was on my little brother's Wii U – (it was released for that console as well) I loved playing it. Exploring new areas has always been one of my favorite things to do in Zelda games (in all video games, honestly), so for me, BotW was an incredibly rewarding experience.

I spent countless hours just running around the map, collecting things, beating Shrines, and taking side quests before I even considered going to one of the main dungeons. It was AMAZING.

All of that being said, I have owned a Switch for a few years now, and I have yet to buy a copy of BotW for it. I'm sure I'd enjoy playing it a second time, but I feel like I've seen everything the game has had to offer. When I do get the faint urge to buy BotW, I just ask myself if I'd rather play Skyrim, and the answer is always a resounding yes.

The open world aspect may be like Skyrim, but while BotW has a larger scale world to explore, Skyrim's world is deeper and richer. The depth of Skyrim's world and the amount of options you have in character creation and customization keep the game fresh and interesting for new playthroughs. I would buy Skyrim for the second time on Switch before I would buy BotW.

Trident – Long-time gamer, Patron, and Twitch Moderator for Assorted Meeples
I don't think there's any one game that necessarily justifies buying an entire console. For me, it comes down to how much and how often I'll use it. Are there games that I want to play/can commit to regularly play on this console? Yes? Okay, time to start budgeting.

Now, is BotW a game that I'd throw into the pros category of buying a Switch? Yes. Game is solid, and is the kind of game I really like. It doesn't hold your hand and leaves you to discover your own way and make your own fun.

And did I want a Switch partly so I could play BotW? Sure, I'll admit it. But if it was the ONLY game I wanted to play on the Switch, would I have gotten one? No.

The Observing – Long-time gamer, Patron
Following up Trident's thoughts are Observing's very practical look at the question and he makes a good point. Plus if no game alone is worth a system to him, but Breath of the Wild counts as a positive reason to buy it, that's about as high praise as you could hope for.
So what does Cynnith think?
I would say if you are a die hard Zelda fan then it's worth it.

Otherwise, if you are just looking for the same style I feel there are a lot of games following in it's path with similar styles of play and similar styles of world.

Cynnith – Gamer and Patron/friend of Assorted Meeples
And for the countering argument which is, admittedly, pure AnonyMoose:
I bought BotW for my switch and have literally never even put the game cart in.

AnonyMoose – Lifelong gamer and long-time Patron of Assorted Meeples
And finally, a Dad who has found this game one he delights in and enjoys watching his kids play.
Breath of the Wild is a really cool game and you should try it out. The kids love it, and it's cool working through frustrations with them, having a game that teaches patience and teaches them to explore. It's a wide, wide world and it's fun watching them explore it. Really different from the old school Zelda games we played as kids. You'd like it.

We were probably getting a Switch anyway, but BotW probably helped speed up how quickly we bought a Switch for Christmas.

Jon – Brother to the Corrupt Overlord despite repeated denials, long-time hobby gamer with two adorable kids who love BotW.
Five First-Hand Opinions Explained
So there you are. Five different experienced gamers and their opinion on Breath of the Wild. The different explanations, thoughts, and opinions paint a full picture of the various thoughts they have on the question of whether or not it's worth buying a Switch just to play Breath of the Wild, and give us all plenty to chew on.
So What's the Verdict?
The general consensus from most of the gamers I've talked to is that:
Breath of the Wild plays better on Switch than any other platform
Most gamers who have played it believe it's an outstanding game
It's probably not worth buying a Switch for Breath of the Wild alone, but if you were seriously considering buying a Switch then this game should be a strong add to the "Pros" column
Breath of the Wild is a very different Zelda game, and it's one that hack and slashers tend to struggle with while old school RPG players and world explorers really love.
If you are a huge Zelda fan this is a game in the series that you should definitely play and will spend dozens to hundreds of hours enjoying as you explore a vast and very different Hyrule world.
BOTW FAQ
How much better is Breath of the Wild on Switch?
There are some varying opinions on this with the official line that the gaming experience is the same on each platform, though incidentally some gamers I've talked to do seem to feel that the experience is best on the Switch.
Is Breath of the Wild better on Switch or Wii U?
While the official line is that the experience is the same, and there are many happy Breath of the Wild players on the Wii U, in general most Nintendo gamers agree that the Switch is the best gaming experience.
What makes Breath of the Wild so special on the Switch?
The game is a wide open world that is there to be explored and the portable nature of the Switch and reactive controls make you feel even further immersed into the story as you check out post apocalyptic Hyrule.
Will the Breath of the Wild sequel be released on Switch?
Yes. All indications are that BotW 2 will be released on Nintendo Switch. Considering how many gamers prefer Breath of the Wild on Switch versus Wii, it would be strange to not see it come out on Switch.
Does Breath of the Wild work on Switch Lite?
Yes, Breath of the Wild does work on the Switch Lite. There are some incidental reports that BOTW works better on a full Switch as opposed to a Switch Lite but even these tend to be along the "Slightly better experience with depth/graphics on Switch but the game runs fine on the Lite." So if you have a Switch Lite, or are considering buying one to play Breath of the Wild, you shouldn't let this stop you from purchasing the game.
Other Video Game Articles You May Enjoy
Proud to embrace the locally created moniker of "Corrupt Overlord" from one of the all time great Lords of Waterdeep runs, Shane is one member of the Assorted Meeples crew and will be hard at work creating awesome content for the website. He is a long-time player of board games, one time semi-professional poker player, and tends to run to the quirky or RPG side of things when it comes to playing video games. He loves tabletop roleplaying systems like Dungeons & Dragons, Pathfinder, Werewolf, Fate, and others, and not only has been a player but has run games as DM for years. You can find his other work in publications like Level Skip or Hobby Lark.