My Time at Portia is a great game, and in my opinion easily a top 10 game in the cozy genre especially among the crafters that blazed the trail after Stardew Valley to revitalize and explode the cozy game genre, but to say its development had challenges is more than fair. One of the errors some players have experienced involve when players can't scroll down on a crafting or placement screen.
So why can't you scroll down to the bottom of the screen when crafting or looking at your inventory?
The scrolling error making it impossible to navigate menus in My Time at Portia and is an uncommon but known glitch most common on consoles like the PS4 and Xbox.
Temporary workarounds include the Sort All button for inventory screens and rolling the left joystick to try to cycle through to the bottom, but the only long-term fixes appear to be to completely close out and restart the game.
Let's dive into how to identify this glitch, go through potential ways to get through the day without losing progress, and the long-term solutions that players have found to be effective.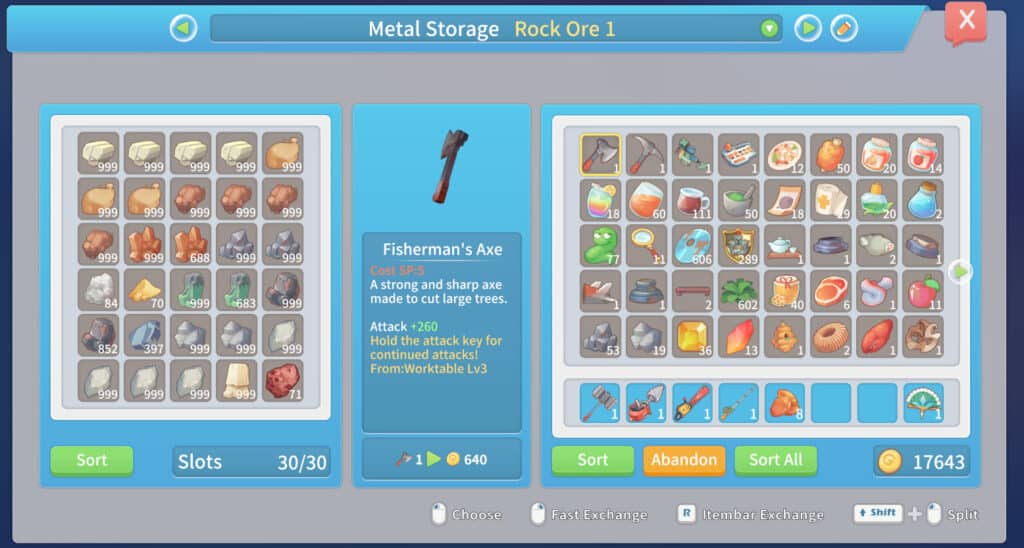 Why Can't I Scroll Down In My Time at Portia?
There is always the chance that the issue is with a controller (or battery if playing wireless) or drivers that need to be updated, but most of the time this is from a known glitch that, while uncommon, has occurred often enough to be noted. This is a glitch that generally does not affect PC players who are on keyboard and mouse but only players using controllers.
Temporary Scrolling Fixes
We're starting with temporary solutions for fixing the scrolling down errors in My Time at Portia because of the Auto-Save feature that only kicks in after going to bed. These can help you make the most of a day and not waste it (or get stuck) before seeing if the longer fixes work to make this less of a problem.
If your problem is in inventory and you can't get to the bottom row because it won't scroll all the way down, hit the sort all button to see if that puts materials you need into a spot where you can pull them out of the backpack.
If your scrolling doesn't work at all so it's not just the bottom this might not be a viable option, but there's one other action that worked for some players.
It was to roll the Left joystick. Sometimes this worked when nothing else did, although it could cause the selected square to rotate rapidly between rows, meaning you need to time it to get there.
These are the best ways to try to get things to work through the day so you don't waste any progress that was made, but then you need to go to the long-term fixes.
Fixing the My Time at Portia Scrolling Bug on PS4 and XBox
The only consistent way to fix this glitch in My Time at Portia, or at least make it go away for a while, is to shut down the game completely, not just to the main menu, and then after shutting it down completely, re-starting it once again. Most players found that 95%+ this fixed the problem. If it doesn't, literally sign out completely, turn off the Xbox or PlayStation, and then turn it back on and reload My Time at Portia and the game controls should work again.
Every great once in a while this problem would come back later, but the same shut down and restart method should work to reset the controls again so the glitch goes away.
Fixing the My Time at Portia Scrolling Bug on PC
Very few PC players have problems with scrolling through menus in Portia, but this bug has showed up at least once – in which case it was a player playing on PC but using a cheap PlayStation style controller. Restarting the game on Steam helped take care of the problem, and they did not that they never had this issue on keyboard and mouse.
Which means there's always switching back as a solution if you have this game on PC instead of a console. So if you can't scroll down in My Time at Portia on PC, just switch to keyboard and mouse if the other fixes don't work.
Like Cozy Games? Check out our great article on 25+ games like Stardew Valley for a long list of fantastic games to fill your hours with cozy game goodness!
Do These Scrolling Problems Exist in My Time at Sandrock?
So far they don't seem to. My Time at Portia was an ambitious game that had a lot of great things, but also had so many development problems. It was a major learning process for Pathea Games and as a result the code in many places is, frankly, a hot mess according to talented programmers I've talked to.
My Time at Sandrock, the sequel, benefits from the learning experiences of the first game, the further experience of game developers, and from having that base of built out code for similar systems and a game world they wanted to create instead of having to do it from scratch. Because of that My Time at Sandrock does not have the same glitches.
Other My Time at Portia Articles You May Enjoy
Proud to embrace the locally created moniker of "Corrupt Overlord" from one of the all time great Lords of Waterdeep runs, Shane is one member of the Assorted Meeples crew and will be hard at work creating awesome content for the website. He is a long-time player of board games, one time semi-professional poker player, and tends to run to the quirky or RPG side of things when it comes to playing video games. He loves tabletop roleplaying systems like Dungeons & Dragons, Pathfinder, Werewolf, Fate, and others, and not only has been a player but has run games as DM for years. You can find his other work in publications like Level Skip or Hobby Lark.