Yes, that's right, we FINALLY have that YouTube channel up and running for Assorted Meeples! Well we're slowly getting better at that acting within a reasonable time thing. We've kept the Twitch TV stream recordings of our board game nights and boy aren't we glad we did!
Now with a really spiffy opening thanks to our amazing artists Phil & Chris, and music done by Braden's brother (who ya'll may know in the Twitch chat or from our Patreon as The Observing) we have a really great opening and closing credits, too. Fancy and professional. Or at the very least kinda cool 🙂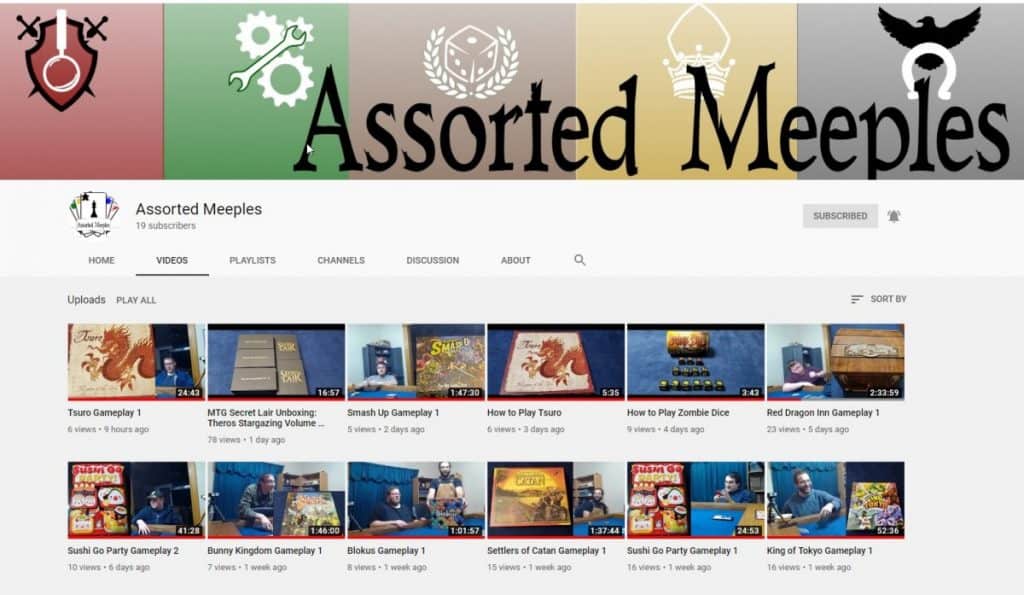 Great work guys!
If you haven't checked out the channel yet, you should. Over the long-term we think it will be one of the crown jewels of what we do here at Assorted Meeples and although it is a surprising amount of work to set up all the programs, make sure the cameras are properly in place, and then getting all the cutting, editing, dealing with uploading to YouTube – it keeps us pretty busy long after the fun, competitiveness, and camraderie of the game has passed.
But man the enthusiasm we have because our truly awesome community (we can never thank you enough for that chat – don't ever change!) and the stories/bragging rights well that makes us eager to keep on going and growing to see just how far we can take this.
Even right now there are some really freaking awesome videos up there, such as:
A lot of great stuff there already. So please feel free to check it out, subscribe if you like what you see, and don't be surprised to say hello! We try to interact with all our visitors!
What Does the Future Hold?
In the short term, there's a LOT of great content we are going to continue to post. In fact, we have enough that for the next couple months we will be posting daily for at least another month. There have been plenty of awesome board games that have been played at the table already and we intend to put them all out there. Truth be told, I've been surprised just how much I enjoyed re-watching some of those crazy weekly games.
Some of our best video game streams are going to also end up there. St. Christopher's legendary run on Rome Total War II or Braden "The Business" going old school with Chrono-Trigger are just two great examples.
Beyond that in the future we will definitely be doing more unboxing videos when Braden gets something new from MTG. We also want to talk a lot more on tabletop role playing games like D&D, Werewolf: The Apocalypse, Pathfinder, and more. Discussion videos, story videos, art tutorials, and even some tabletop gaming sessions.
We're a weird, creative group, and we're having a blast while working hard so while it may take some time before we can really expand the channel but there's already some great stuff on there and we can't wait to keep growing, keep sharing our videos, and get to more creative projects out there.
Thanks again to everyone who made this possible. If you've loved what we've been doing, come over and say hi. Give us a thumbs up on your favorite video, subscribe to join the Assorted Meeples fam, and we hope to be entertaining you for years to come!
UPDATE: The Future Is Now!
Wow – hard to believe the original post was a year ago. And 2020 was…well it was a year. But we made good on creating an AWESOME YouTube channel that we are all really thrilled with!
We currently have not one, but TWO awesome YouTube shows.
Unqualified Experts
Braden and Shane have plenty of opinions on a wide variety topics. With recurring guest host Brownie the Teddy Bear, they tackle all kinds of topics from favorite vintage games to mastering tabletop RPG roleplaying, to board game strategies to make you a terror at the table.
And some of those opening sketches are just freaking hilarious. Check out the first season (now wrapped up) as they prepare for season number two coming this fall!
All the episodes are pretty great but some highlights:
Table for Two
Phil and Heather are our favorite gaming couple, and their two person weekly playthrough is a shot of relaxation and often an introduction to something awesome and new.
You can catch the weekly updated playlist HERE or go ahead and cheat and visit some of our favorite episodes:
Future Plans
So now that we're back to future plans…even more! There are video game playthroughs, early access, unboxings, and there are going to be even more creative and awesome videos going into the future!
Please Consider Supporting Us!
We are looking forward to seeing all of you tonight! If you're not following us already on Twitch, please give us a follow (or even subscribe!) or consider supporting us on Patreon. We really appreciate every bit of support you can provide to keep these game nights going and we hope to see y'all tonight!
Proud to embrace the locally created moniker of "Corrupt Overlord" from one of the all time great Lords of Waterdeep runs, Shane is one member of the Assorted Meeples crew and will be hard at work creating awesome content for the website. He is a long-time player of board games, one time semi-professional poker player, and tends to run to the quirky or RPG side of things when it comes to playing video games. He loves tabletop roleplaying systems like Dungeons & Dragons, Pathfinder, Werewolf, Fate, and others, and not only has been a player but has run games as DM for years. You can find his other work in publications like Level Skip or Hobby Lark.